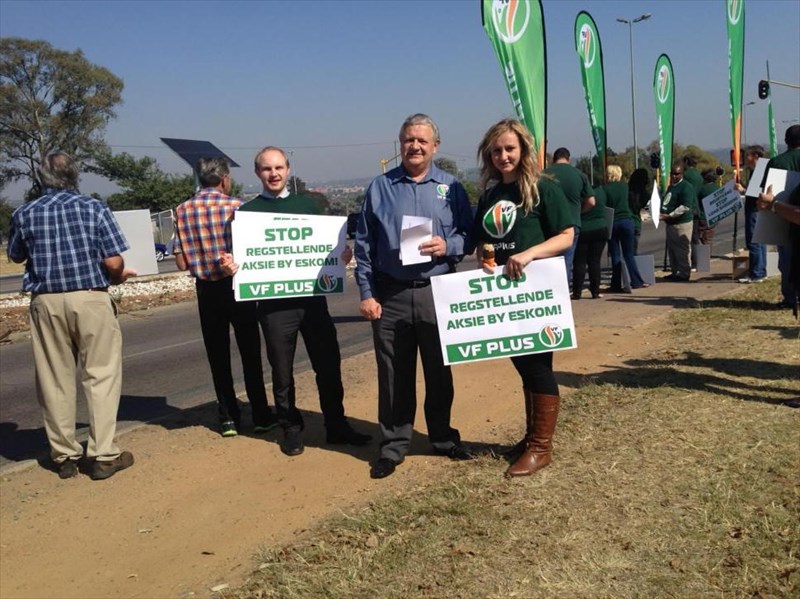 In its biggest crisis hour it appears as if it is 'business as usual' for Eskom and government and its time the power utility realises that far-reaching measures must be instituted before it can function normally again.
This is the message that Dr. Mulder, leader of the FF Plus, today conveyed at Eskom's head office at Megawatt Park in Midrand with a protest action by the FF Plus which focused on problems which gave rise to load-shedding and high electricity tariffs at this utility company.
Two senior officials of Eskom received the petition and expressed their gratitude to Dr. Mulder that the protest action had occurred peacefully.
In the petition it was mentioned that Eskom's problems is the result of poor planning, affirmative action (AA) and maladministration which is the cause of inadequate maintenance, poor financial planning, delays at Medupi and Kusile and the procurement procedures for diesel and coal.
Dr. Mulder says Eskom is acting like a normal company where exorbitant salary increases and bonuses are handed out, paralysing strikes are tolerated and affirmative action is still being applied.
"What is actually urgently needed are far-reaching measures to rescue Eskom from ruin. Expenses which are not really necessary should be suspended. Strikes cannot be allowed under the current circumstances and it borders on self-destruction to use AA to get rid of more competent personnel just because they are white.
"It also borders on the absurd that Eskom on the one hand expects the public to make less use of its product but at the same time to ask for a tariff increase of 25%.
"It boils down to Eskom and the government now expecting electricity consumers who diligently pay for their service to pay even more exorbitantly for the distress in which Eskom finds itself.
"The FF Plus says it is unacceptable and will support any attempt to protect the public from this exploitation," Dr. Mulder says.
Contact no.: 083 419 5403 / 082 674 6670