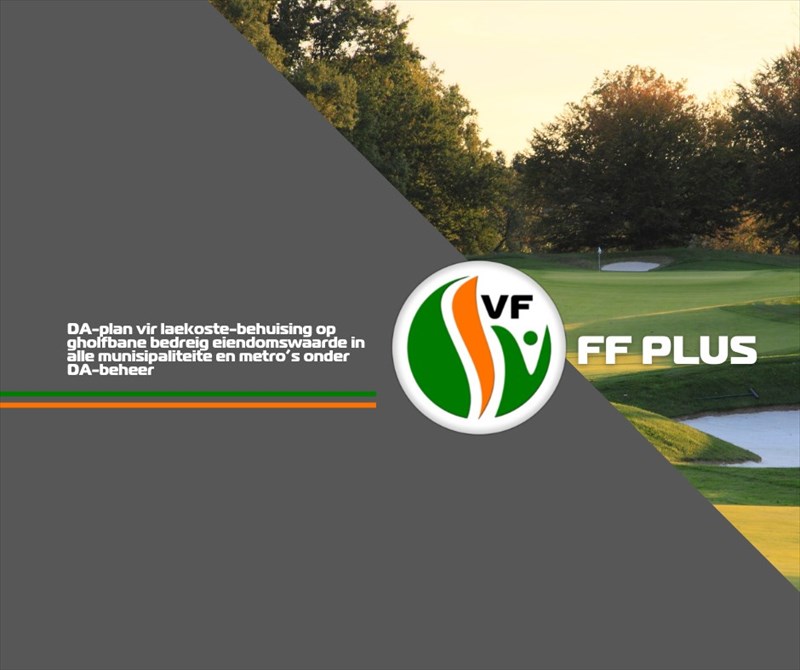 The DA's intention to construct low-cost housing in the Cape Town Metro on existing golf courses, among other sites, means that the party may very well do the same thing in other metros and municipalities that are under DA control.
According to media reports by Network24, Mr John Steenhuizen, leader of the DA, stated in an interview with the news channel Newzroom Africa that he has already instructed the Cape Town Metro Council to release golf courses for the development of housing seeing as there is "a proliferation of golf courses" in the Metro.
The FF Plus finds it alarming that the DA apparently did not consider the impact of this decision on the economy, job creation and property values in the area.
This step will have far-reaching consequences for hundreds of people of all races who depend on the golf courses for their livelihoods.
The value of property in the areas where the low-cost housing will be constructed will also be adversely affected. These property values could possibly plummet overnight.
This decision must be seen in a very serious light as Mr Steenhuizen, who is the leader of the party that currently governs the Western Cape and the Cape Town Metro, cannot make pre-election promises without delivering on them after the elections.
The FF Plus would like to know which golf courses in the Cape Town Metro are considered redundant and what processes will be followed to expropriate and develop those areas.
Thousands of golf club members, employees and numerous businesses and contractors that earn an income from golf courses will be directly affected. Moreover, the people who own properties in the vicinity of golf courses do not deserve to be kept in the dark about this matter.
The FF Plus is of the opinion that this plan will have serious consequences for communities that are loyally paying their rates and taxes to keep the City's coffers full.
The issue of making land in the Metro available for affordable, or low-cost, housing has turned into a mudslinging contest between the DA and the Minister of Public Works and Infrastructure, Patricia de Lille, and that is what has apparently led to this decision.
The FF Plus will oppose this process with all its might.