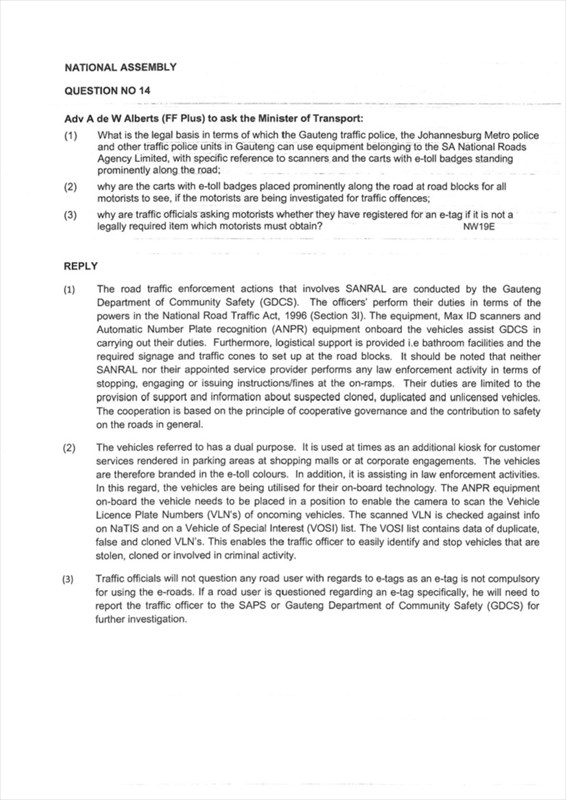 The FF Plus strongly objects to the abuse of Sanral equipment by the Johannesburg Metro and other traffic units as it creates the false impression that motorists are being prosecuted for e-tolls, Adv. Anton Alberts, the FF Plus' parliamentary spokesperson on transport says.
Adv. Alberts asked the minister of transport in parliament why Sanral equipment, such as scanning machines and trailers with the e-toll logo on, are used at ordinary traffic road blocks and why officials ask motorists whether they had registered for e-toll tags, as this is not legally obligatory.
According to the reply of the minister, the Gauteng Department of Community Safety (GDCS) only uses Sanral's equipment to fulfil their duties properly and that the cooperation is based on the principle of cooperative governance.
The minister did however point out that Sanral itself or its appointed agent are not allowed to undertake any law-enforcement. Road users are not allowed to be stopped or approached in Sanral operations and no fines are allowed to be issued.
Adv. Alberts says the FF Plus is not satisfied with the reply of the minister as there may only be inter-departmental cooperation based on a proper legal basis.
"The e-toll equipment creates the impression that people are being prosecuted for e-toll tags. It is a misrepresentation by the state and intimidates road users. It should not be happening and must be stopped immediately," Adv. Alberts says.
To a question as to why traffic officers are asking road users whether they had registered for e-tolls, the minister gave the assurance that it may not be done and said the public could report any such incident and officer involved to the police or the GDCS.
Contact no.: 082 391 3117