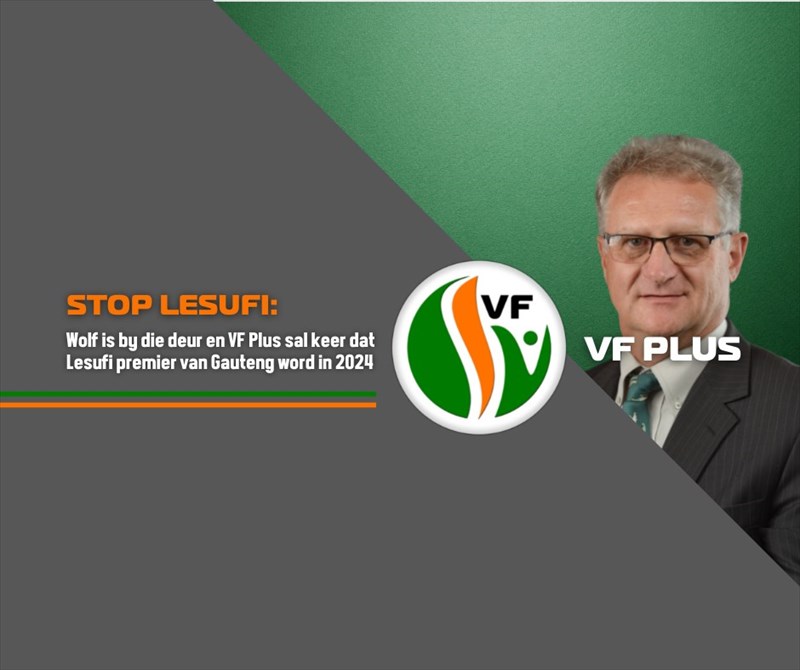 With his failures and conduct as MEC for Education, Panyaza Lesufi has proven that Gauteng will suffer if he were to become premier. Gauteng residents deserve better.
The FF Plus has been exposing Lesufi's failures and the irregularities in his department for many years.
The party plans to launch various campaigns aimed at holding Lesufi accountable for his many racially divisive campaigns, the financial mismanagement of his department – especially during the Covid-19 pandemic – and his failure to ensure that there are enough safe schools in the province.
This campaign will run until the 2024 general elections when the FF Plus plans to, in coalition with other opposition parties, oust the ANC from power and form a new government what will govern in a clean and fair manner to benefit all the people of Gauteng.
This past weekend, Lesufi was elected as the ANC chairperson in Gauteng and he will most probably become premier if the ANC wins the national elections in 2024.
He is known for being a racial demagogue who sets school communities against each other on false grounds. His premiership will land Gauteng in a quagmire of racial conflict, further damage the already struggling economy, and put an end to any form of social cohesion and cooperation between the people of Gauteng.
Lesufi is also known for his apparent hate for the Afrikaans language and the Afrikaans community, which he frequently uses as a tool to incite animosity and bring division among otherwise peace-loving communities in Gauteng.
Under Lesufi's guidance and the smokescreen that language is being used to exclude learners based on their race, the Gauteng Department of Education has been conducting a carefully planned onslaught on the Afrikaans community and its schools for years.
In this way, he has ensured many times that innocent school communities are set against one another, seemingly on grounds of race, and some of these instances have even escalated to violence, which endangered the lives of learners, parents and teachers.
The Gauteng Department of Education is stumbling from one crisis to the next under Lesufi's leadership, which is a good indication of how he will govern the province as premier.
Due to the lack of a proper infrastructure-inspection system, his department created an environment where learners were injured and some even killed when an overhanging cement slab fell on them at Hoërskool Driehoek in 2019.
In addition, the Special Investigating Unit (SIU) named Lesufi's department one of the government departments where some of the greatest Covid-19-related fraud took place in the country.
During his career as MEC for Education, Lesufi demonstrated time and again that he governs recklessly and that, as an elected leader, he is unable to act in the best interests of all Gauteng residents.
Thus far, he has been abusing his important position to pursue a personal vendetta against the Afrikaans community, to sow animosity, and to endanger the lives of learners and toddlers while billions of rand was being misappropriated and stolen from his department.
Gauteng deserves better, so Lesufi must be stopped.
The FF Plus will see to it.