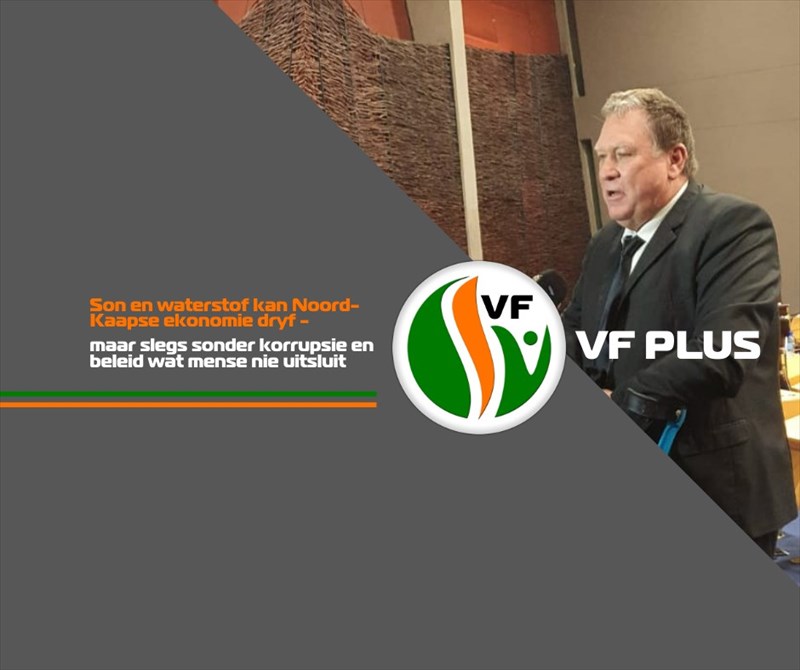 (Debate on the Northern Cape State of the Province Address)
The Northern Cape has the potential to develop from being a marginal economic area in South Africa to a flourishing province with a positive influence that transcends provincial borders. The abundance of renewable energy could drive this transformation, but then the provincial government must do away with policy that excludes people based on their ancestry.
In his State of the Province Address (SOPA), the Premier referred to two matters that have great possibilities: The development of the Namaqualand Special Economic Zone (SEZ) with the planned port at Boegoebaai; and assistance to municipalities to generate their own power.
In both respects, the FF Plus wants to expand on what the Premier said: With regard to the Special Economic Zone, the FF Plus insists that Black Economic Empowerment (BEE) must not apply as per government policy. It excludes coloured and white people who have lived in the area for generations, even centuries, while they possess unique expertise and valuable skills.
If there are historical imbalances that need to be addressed, you do so by retaining accumulated expertise and transferring it to the new generation, not by wiping it out completely.
With regard to energy, Northern Cape municipalities have the potential to not only generate enough power for their own consumption, but also to supply power to the rest of the country. In fact, by processing ore locally and exporting it with added value using the Boegoebaai port, the Northern Cape's sunshine could be sold all over the world.
Energy generation is not limited to solar power, either. With the recent floods, which occur periodically in the Northern Cape, there was enough water to fill all the dams in the province twice over. If that water could have been retained somehow, it could have been used to produce hydrogen-fuel over the course of many years.
The future of the Northern Cape depends on whether the government will make the right decisions concerning appointments and capital investment. And it is no secret that the FF Plus is fully committed to this ideal.