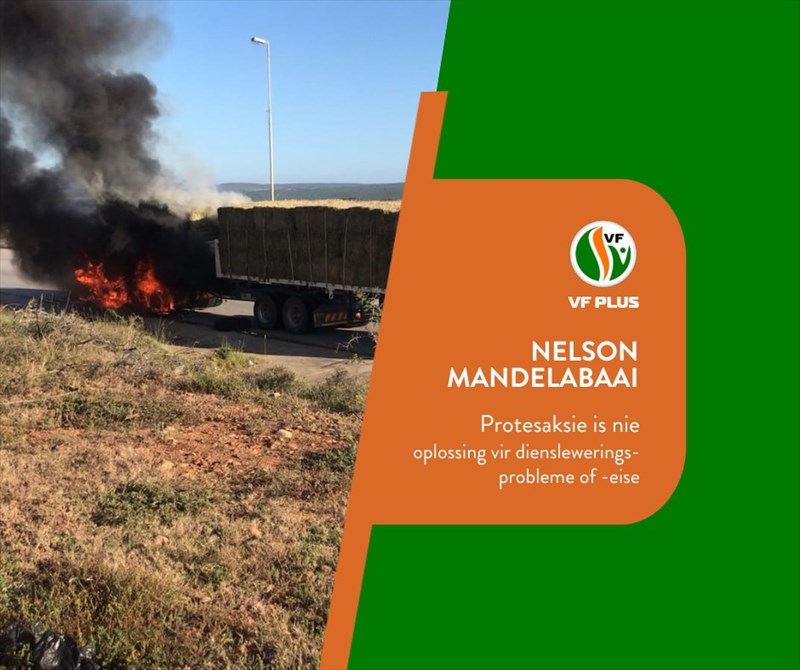 It is unacceptable that the residents of informal settlements in the Nelson Mandela Bay Metro (NMBM), who are demanding municipal services, are resorting to protest actions as their first option.
They must rather engage with the Metro Council so that solutions to their problems and frustrations can be found.
Residents of the Bayland settlement recently caused severe disruptions on the main route between Port Elizabeth (Gqeberha) and Uitenhage (Kariega) by blocking the road with burning tyres and other objects.
A transport company's truck was torched and various other vehicles were also damaged.
The main route was closed for several hours forcing motorists to turn around and find another way to get to work.
Bayland is an informal settlement on the fringes of Port Elizabeth (Gqeberha).
The settlement formed when a group of land occupants erected informal structures and moved in.
These residents are now demanding municipal services, like electricity, and water and sanitation.
In an attempt to defuse the situation, members of the Mayoral Committee visited the area to speak to the local community leaders.
These leaders were invited to engage in constructive talks with the relevant role players in the Metro Council so that the coalition government of NMBM can address their grievances.
The initiative is aimed at preventing any further protest actions, which cause inconvenience as well as property and economic damage.
As coalition partner in the NMBM, the FF Plus is committed to proper service delivery. The FF Plus is also committed to the construction of new infrastructure and rendering services as well as the maintenance of existing infrastructure.
This must happen without disrupting service delivery to loyal taxpayers, and only when residents of informal settlements are willing to pay for these services.
The FF Plus is calling on residents to take up any disputes directly with the Municipality instead of launching radical protest actions.