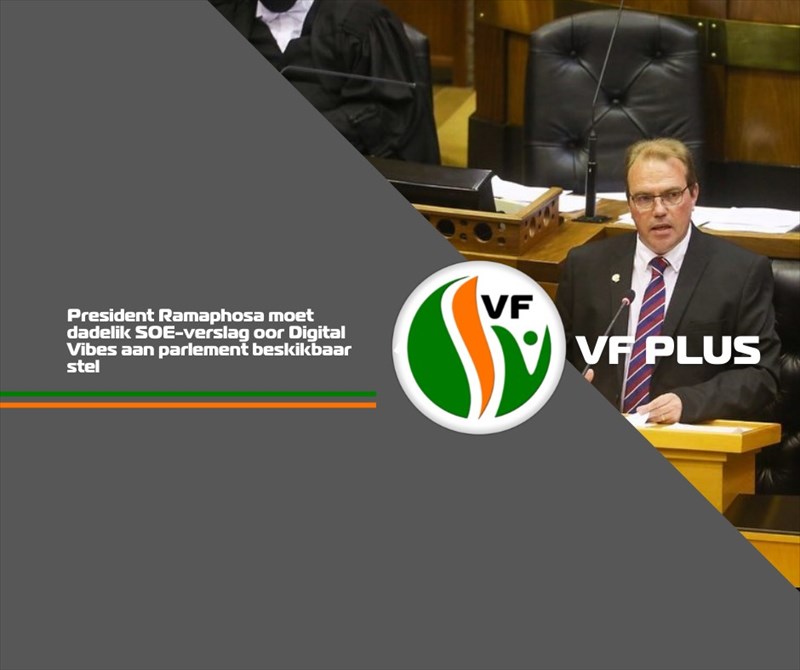 Nearly a month has passed since the parliamentary Portfolio Committee on Health decided to formally ask President Cyril Ramaphosa to disclose the Special Investigating Unit's (SIU) report on Digital Vibes.
The former chairperson of the Committee, Dr Sibongiseni Dhlomo, now the Deputy Minister of Health, undertook in the Portfolio Committee's meeting, held on the 4th of August 2021, to carry out the Committee's decision.
He was supposed to send a written request to the Speaker of Parliament to ask the President to release the report to the Portfolio Committee.
The content of the report would have been used to determine whether the Committee should request a meeting with the SIU. The minutes of the meeting in question were adopted in a subsequent meeting on the 18th of August 2021.
At present, it is still unclear whether the instruction has been executed or not and in today's Committee meeting, the FF Plus asked the new chairperson, Dr Kenneth Jacobs, to report on this matter to the Committee.
The chairperson undertook to follow up on the matter and to report back in the next meeting.
It is imperative that the report is disclosed at once. The delay in the process could be construed as an indication that the report contains damning information implicating more prominent persons than what was initially thought and possibly even high-ranking ANC members in the corruption scandal.
The FF Plus does not accept the excuses that the President's process is still ongoing or that the people implicated by the report first need to be afforded an opportunity to state their side of the case.
There have been ample opportunities to do so in the Portfolio Committee on Health. One example is Zweli Mkhize, who was given three separate opportunities to state his side of the case, but refused to do so every time.
The FF Plus will not allow this matter to be swept under the rug. President Ramaphosa's withholding of the report from the public and Parliament is unacceptable and sets alarm bells ringing.