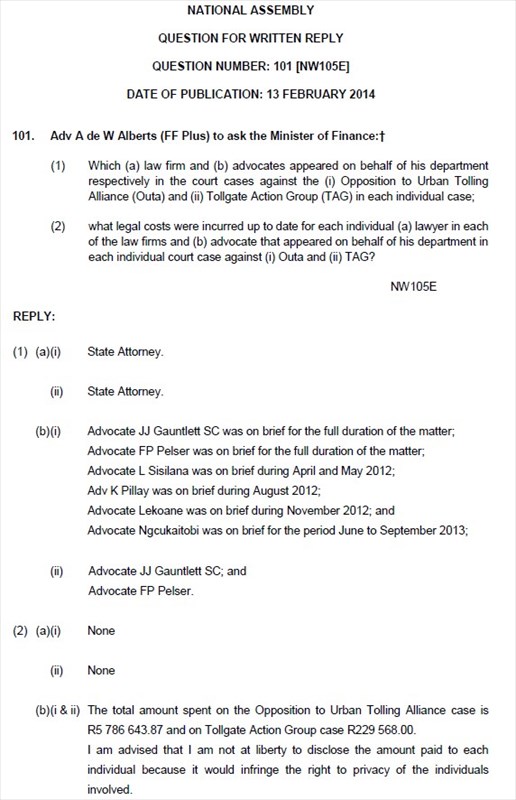 It is unacceptable that the department of Finance has paid R6 million in legal fees for court cases in which the government tried to justify the controversial e-toll system. This amount does not include the legal fees of SANRAL and the department of Transport who were also parties to the court cases. The amount that taxpayers will eventually have to pay for these unnecessary court cases will eventually amount to reveal millions more," Adv. Anton Alberts, the parliamentary spokesperson on Transport for the Freedom Front Plus says.
"The FF Plus will be approaching the Public Protector (PP) to investigate the amounts that the department of Finance had paid to lawyers in each of the different court cases. The exorbitant account of lawyers in the court cases is a waste of taxpayer's money. The question could justifiably be asked why the state makes use of such expensive legal representatives when there are so many other advocates who charge cheaper rates and are as good as those whose services the state made use of.
"The FF Plus, as a member of the Tollgate Action Group (TAG) is awaiting the final accounts of the legal representatives who acted on behalf of the department of Transport and SANRAL in the court cases. The FF Plus will make these accounts public as soon as they have been received and refer it to the PP to be investigated with the accounts of the department of Finance.
"The government could rather have used the funds paid to the legal representatives to look for sensible ways in which to finance the e-toll system. It appears from these exorbitant accounts that the government does not hesitate to act recklessly with taxpayer's money to force unpopular and unnecessary policy decisions on taxpayers. The FF Plus will therefore continue its struggle to force the government to find alternative methods of paying the debt for the e-toll system," Adv. Alberts said.
Contact no.: 082 391 3117