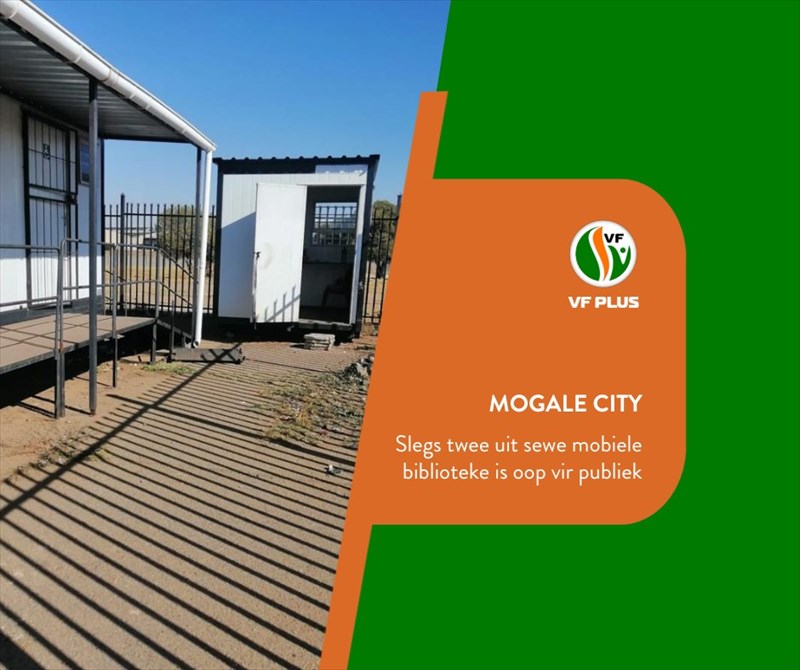 The FF Plus has requested an urgent report from the Mogale City Local Municipality (Krugersdorp, Magaliesburg, Muldersdrift) on its seven mobile libraries, of which only two are currently open to the public.

The libraries were constructed during the previous ANC municipal dispensation.

At present, though, only the libraries in Munsieville Extension 4 and Smoketown in Tarlton are open to the public.

The other libraries in Ethembalethu Eco Village and Joe Slovo in Muldersdrift, Kagiso Extension 1 in Kromdraai and Rietvallei Extension 3 are all closed.

All the libraries, which can be moved if need be, were erected on paving or cement blocks.

Three of the libraries were erected in areas affected by land disputes, and three have no books.

Five of the libraries also do not have any water or electricity.

In addition, the Municipality is shelling out to pay security companies to guard the dilapidated and abandoned buildings.

The FF Plus stated, during a meeting of the Municipality's Arts, Culture and Recreation Committee, that it is unacceptable that the contractors who were awarded the contracts to erect the libraries left them unfinished.

New contractors must now be appointed to complete the botch work for which the previous contractors have already been paid.

The party also queried the amount of R2,2 million which was spent in the 2021-22 financial year on extending the fence around the library in Kagiso Extension 1, erecting a car port and paving.

Libraries, as information resources, are especially important for people in rural areas, and the ANC government's legacy in this regard is inexcusable.

This once again serves as proof that during its term in power, the ANC was only interested in lining the pockets of cadres and friends at the expense of the communities that need access to learning and recreational reading material the most.

As a coalition partner in the Municipality, the FF Plus will do everything in its power to clean up the mess the ANC made for the benefit of all Mogale City residents.