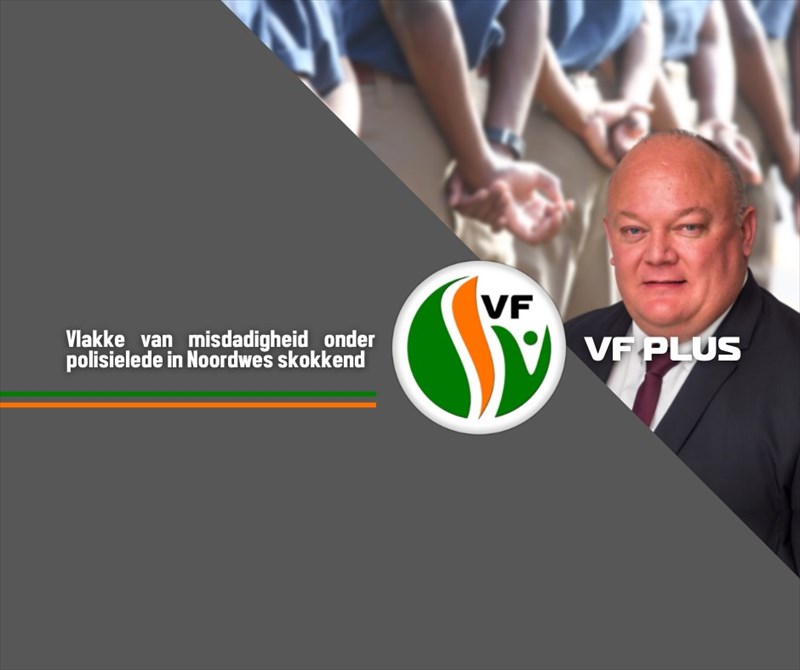 The large number of police members involved in crime in the North West is shocking.
The Minister of Police, Bheki Cele, confirmed in his reply to a parliamentary question from the FF Plus that since 2020, 104 police members in the province have been implicated in criminal incidents.
The extent of the criminality is alarming. It includes attempted murder, business robbery, corruption, rape, kidnapping and theft.
The Minister confirmed that five North West police members have been arrested over the last two years. One has already been sentenced.
No mention was made of the progress with the investigations into the other 99 members, though. The FF Plus will, in a follow-up question to the Minister, demand a comprehensive breakdown of the status of these investigations.
What is also noteworthy is the large number of senior police members and detectives implicated in crimes.
Police officers holding ranks like colonel, unit commanders and long-serving members of the police are all included in the figures.
Those are the ones who the community looks up to and who are supposed to set a good example.
This situation paints a sombre picture of a province where the community is increasingly losing its faith in the police. Incidents where communities take the law into their own hands are also occurring more frequently.
The situation points to the low morale among police officers that took root over the last few years due to, among other things, instability in the national police management.
Unfortunately, the most dedicated police officers also suffer the consequences of poor management and the actions of criminal elements in the police service.
Restoring morale and discipline in the police ought to be Minister Cele's highest priority.
The high levels of crime in the country cannot be effectively combated by a police force that is being undermined by criminals in its own midst.
It is a crying shame that a once respected and highly efficient police force has declined to such a degree under ANC governance.
The people of the North West, and the rest of the country, deserve better than the ANC.