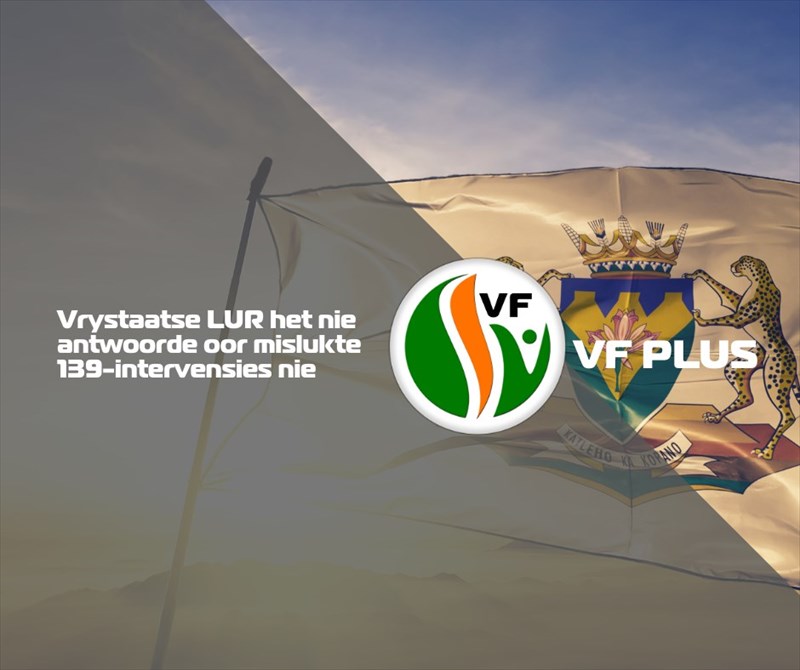 On Wednesday during the Local Government Week in the National Council of Provinces (NCOP), the FF Plus asked Sully Nxangisa, the Free State MEC for Cooperative Governance and Traditional Affairs (COGTA), why the condition of the Free State municipalities under Section 139 interventions did not improve at all.
Nxangisa was unable to provide a convincing answer to explain why the service delivery and financial positions of these municipalities, where the province had until recently intervened, did not improve.
In Mafube (Frankfort, Cornelia and Villiers), for example, some of the Municipality's assets were seized even though the ANC-controlled provincial government had intervened and the Municipality cannot even afford to print out residents' accounts. At present, the Municipality's collection rate is less than 30%.
In Masilonyana (Theunissen, Brandfort and Winburg), which has been placed under Section 139 administration, there are no signs of improvement either. During its time of intervention, the provincial government's oversight was so poor that money that was supposed to be paid to Eskom ended up in one official's personal bank account. This Municipality is also only collecting about 30% from its debtors.
In Maluti-A-Phofung (Harrismith and Qwaqwa), the municipal manager and chief financial officer awarded themselves salary increases without obtaining the required approval and while the Municipality is unable to afford such raises. This also transpired during a Section 139 intervention.
Steps were indeed taken against these officials, but the FF Plus wanted the MEC to explain how it is possible that service delivery does not improve at all during a Section 139 intervention and why these interventions oftentimes seem to cause even more problems in the relevant municipalities.
The MEC stated that instability in the municipal councils hamper the interventions. He, however, failed to add that it is the provincial government's duty to support municipalities so that they are able to comply with statutory obligations and provide proper service delivery.
The ANC is unable to govern. South Africa's struggling municipalities – some of the worst are found in the Free State – have failed the people.
Affirmative Action, Black Economic Empowerment and corruption in the ANC government have brought municipalities to a crossroads.
Expert officials are needed to save our municipalities. The people of the Free State deserve municipalities that are financially healthy and functioning and that provide proper service delivery.

Contact details: 076 629 6219