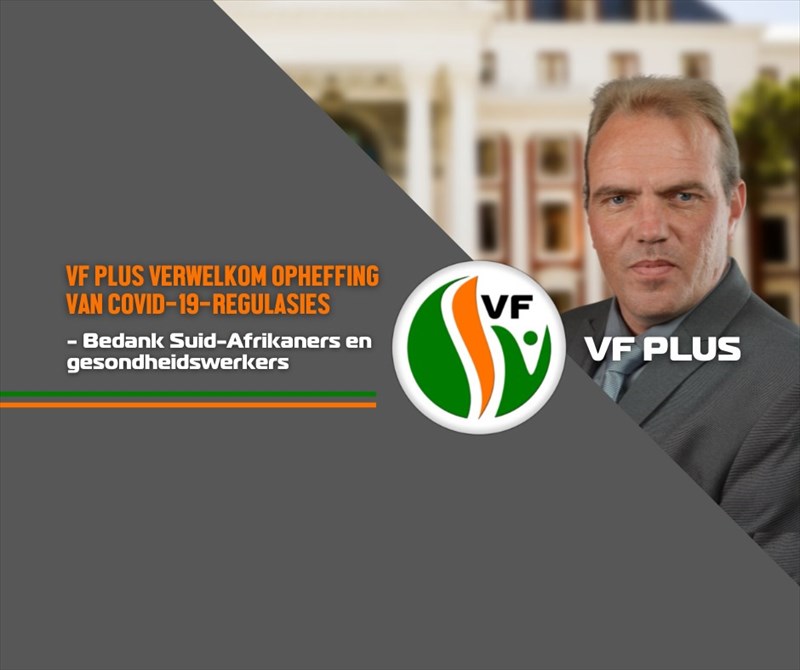 The FF Plus welcomes the fact that all the regulations relating to the Covid-19 pandemic, which caused severe damage to the country and its people, have been repealed.
The FF Plus's fight against the regulations started as soon as the pandemic broke out in early 2020. Over the past two years, the party among other things approached the court to have the regulations repealed.
Dr Pieter Groenewald, leader of the FF Plus, also tabled a Private Member's Bill in Parliament with the aim of amending the Disaster Management Act to take the power away from the government and place it in the hands of Parliament so that proper oversight can be exercised over decisions regarding regulations.
The FF Plus frequently voiced its objection to the regulations, restrictions, compulsory vaccinations and inadequate vaccination programme in the parliamentary Portfolio Committee on Health, other related committees and the National Council of Provinces.
The party also kept raising the issue in both houses of Parliament so as to hold the government accountable for the enormous damage that it did to the country's economy and the labour market through imposing its senseless regulations.
More recently – in April this year – the FF Plus strongly objected to the proposed health regulations and repeatedly requested the Minister of Health, Dr Joe Phaahla, to withdraw the regulations.
The government has finally come to its senses after the public outcry against the regulations became overwhelming. The government could also no longer use arguments based on high infection rates, high hospitalisation numbers or a high death rate.
The general recovery rate of 97%, which has been maintained for a number of months now, dealt the final blow to the government's arguments in favour of restrictions.
The complete normalisation of circumstances in various other countries as well as looming legal action further increased the pressure on government.
The FF Plus wants to thank each and every citizen and organisation that continued to oppose the restrictions and regulations. It proves that a united front against the government can achieve success.
The party also wants to thank all healthcare workers who bore the brunt of the pandemic and who had to work hard, sometimes under terrible circumstances in the public sector, to save lives. They are true heroes and will be remembered forever.
South Africans learnt and sacrificed a lot during these trying times. The government must realise that in future, it cannot just do whatever it wants without taking the will of the people into consideration.
It is truly lamentable that the ruling party and its elected members committed serious transgressions and corruption during this time of crisis. The FF Plus will do its part to ensure that the guilty parties are brought to book and that justice prevails.