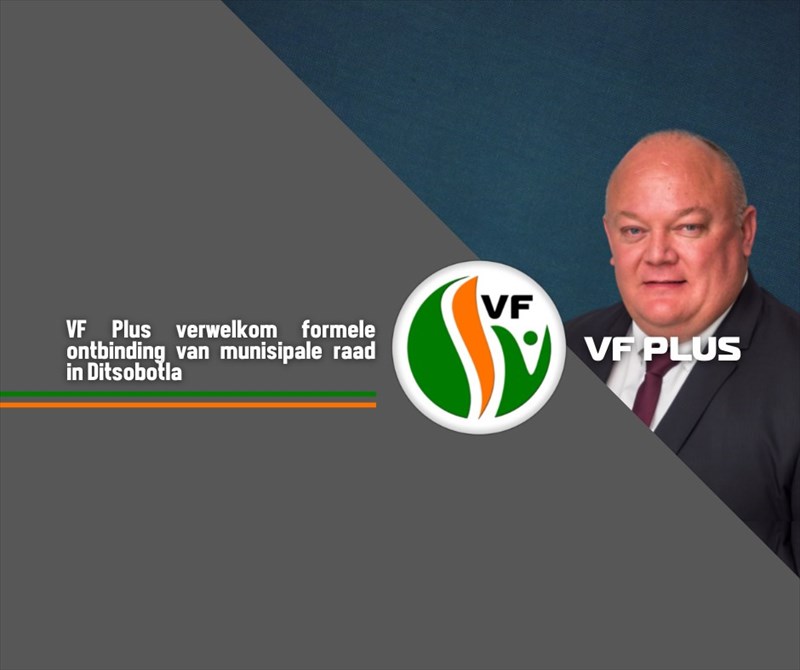 The FF Plus welcomes the formal dissolution of the municipal council in the ANC-controlled Ditsobotla Local Municipality (Lichtenburg, Coligny and Bakerville) during a special session of the National Council of Provinces (NCOP) today.
A new municipal council will be elected in the near future by means of a by-election.

The NCOP's decision to dissolve the council follows years of instability and the consequent collapse of service delivery in the Municipality.
The residents of, among other towns, Lichtenburg and Coligny witnessed the gradual decline of their towns due to constant ANC faction fights, and the looting of municipal assets and tax money.

The ANC factions repeatedly responded with hostility towards and disrupted the various attempts by the North West's provincial government to intervene in the Municipality and, so, none of the attempts bore any fruit.

A report by the Public Protector (PP) also highlighted the extent of the corruption and nepotism in the Municipality.
Many irregular appointments were made, including the unnecessary appointment of 40 family members and friends of ANC councillors.

Tender corruption amounting to millions of rand was also discovered and is currently under investigation by the relevant authorities.

On the FF Plus's insistence, the NCOP decided to conduct a comprehensive skills audit in the Municipality before any new appointments are made.
Only properly qualified individuals must be appointed in the future.

It is paramount that the residents of Lichtenburg, Coligny and Bakerville seize the opportunity they have with the upcoming by-election to ensure that only individuals fully committed to serving the community's interests are elected to the municipal council.

The FF Plus looks forward to increasing the party's representation in the municipal council with the by-election, and to promote accountability and professional service delivery.

Lichtenburg, Coligny and Bakerville residents deserve better than the ANC.