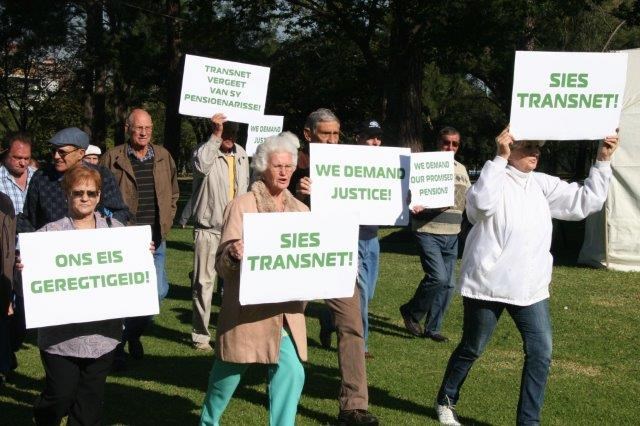 The FF Plus will be laying a complaint with the Human Rights Commission (HRC) against Mr. Brian Molefe, the chief executive officer of Transnet over his racist and threatening comments against pensioners of Transnet, Adv. Anton Alberts, the FF Plus' parliamentary spokesperson on Transport says.
This follows on the article on Sunday 27 April in Rapport about the class action court case of 67 000 impoverished Transnet pensioners against Transnet which will be starting on the 8th and 9th May in the Gauteng North High Court (in Pretoria).
The claim amounts to R79 billion which makes it the largest civil claim in South Africa's legal history.
According to the Rapport article, Molefe said, amongst others, the pensioners are 'the advantaged of apartheid which cannot lay claim to any compensation'.
Also: 'If they want to take the revolution further in the streets, they should just say so'. The latter was in apparent reference to the march of the pensioners last week together with the FF Plus to the Union Buildings in Pretoria.
According to Adv. Alberts, the comments of Molefe are not only untrue, but it is racist and infringes on the dignity of pensioners who are already poverty stricken due to the stripping of their pension funds.
"Al of these people made contributions to one of these funds and that money is at stake. In addition, Mr. Molefe is apparently not aware of the fact that approximately half of the claimants are black, brown and Indian people.
"These comments are unacceptable for someone of Mr. Molefe's stature. Maybe he should also explain what he meant with his threat pertaining to the protest march which he apparently sees as a 'revolution'.
"My message to Molefe is that pensioners are not asking for favours and gifts. They are asking for that which they are entitled to and for which they had been working their whole lives for. Insults and threats won't work. The court is the place to explain what had happened to people's money," Adv. Alberts said.
Contact no.: 082 391 3117 / 083 419 5403