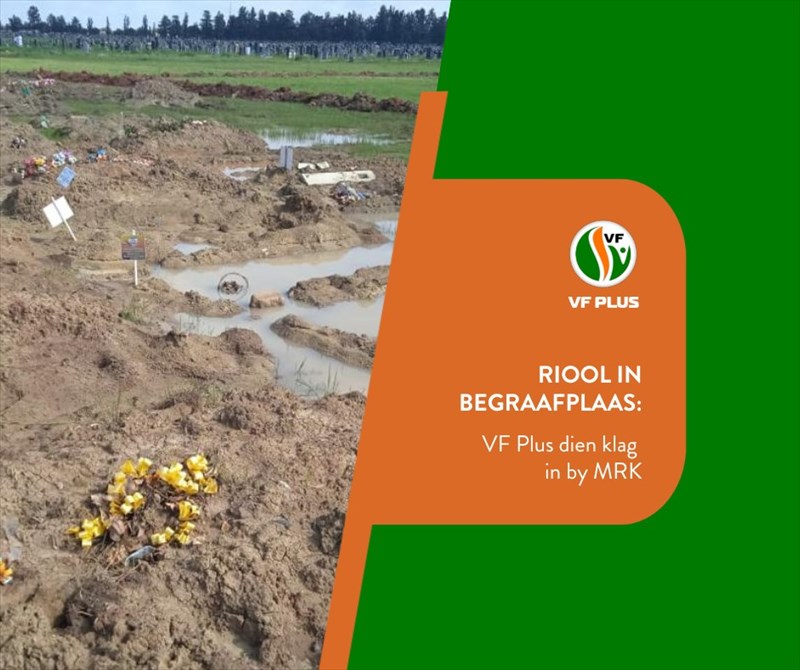 The FF Plus lodged a complaint with the Human Rights Commission (HRC) because the municipal manager of the Emfuleni Local Municipality, Lucky Leseane, has done nothing in a year's time to put an end to the sewage spill in the Vanderbijlpark cemetery.
Last year, a sewage pipe next to the cemetery burst and instead of repairing the pipe, the Municipality dug a trench to divert the sewage.
But the sewage started flowing into the cemetery.
After the recent heavy rains, the situation got much worse and the graves are now flooded by knee-deep sewage-polluted water.
In February 2021, the HRC declared the serious sewage pollution of the Vaal River and the municipal area a human rights violation.
Despite the intervention by the Defence Force and the national Department of Water and Sanitation, sewage pollution in Emfuleni continues unhindered.
Therefore, the FF Plus decided to lodge an additional complaint with the HRC about the pollution of the Vanderbijlpark cemetery.
At the moment, the cemetery poses a serious health and safety risk, and it is disappointing that the Municipality seems to be in no hurry to address the situation.
Emfuleni deserves better than the ANC, which has no respect for anything or anyone.