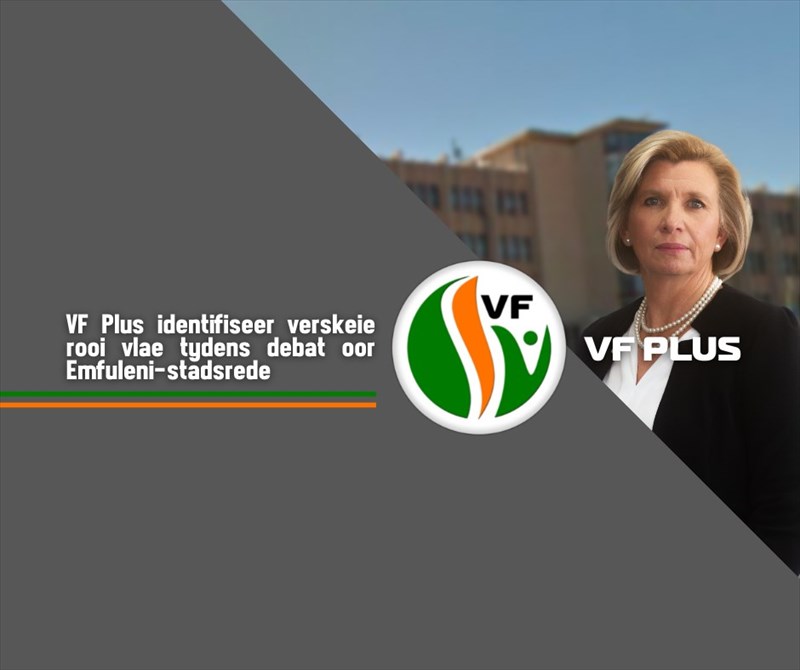 The FF Plus identified various red flags in response to the State of the Municipality Address of the Emfuleni Local Municipality (Evaton, Sebokeng, Vaal Oewer, Vanderbijlpark, Vereeniging).
It is good that the Presidency attended the Address and the reply so that the national executive authority could see for itself in what crisis Emfuleni currently finds itself.

The first red flag relates to a lack of proper municipal oversight.
It is a disgrace that the chairperson of the Municipal Oversight Committee comes from the ranks of the ruling ANC, and that is not chaired by a member of an opposition party, as is customary.

The second red flag is the fact that numerous senior positions have been vacant for very long and that junior officials are filling those posts in an acting capacity.
It leads to a lack of experience and structural instability in the Municipality, which in turn, contributes to endemically poor service delivery.

The third red flag is that no clear distinction is made between political representatives and officials.
Former politicians are appointed as senior officials who have control over funds as well as how tenders are awarded. In this way, ANC municipal capture flourishes in Emfuleni, despite the Municipality's bankrupt status.

Therefore, the real issues in Emfuleni are poor governance and the looting of resources.
The FF Plus believes that the revenue generated by the Municipality (although there is ample room for improvement) along with the allocations received are sufficient to deliver above-average services in all areas.
On condition that the correct control is exercised over services to poverty-stricken households; the value-for-money principle is applied to contracts, projects and procurement are guaranteed; and that officials are effectively managed and supervised to ensure that they do their jobs productively and with accountability.

It is, however, highly unlikely that such healthy governance practices will be implemented by the ANC.
An example is the mismanagement of the Sedibeng Regional Sewer Scheme. The project was approved and launched in 2002 already.
It was supposed to be the solution to the sewage issues in the Vaal area as it addresses the problems holistically. But due to politicking, this project has still not gotten off the ground.

Emfuleni has, unfortunately, deteriorated to such an extent that the Municipality is currently in violation of the Constitution, because the most basic services, like water, sanitation, garbage disposal and electricity, are not being provided.
The Municipality frequently makes the headlines for its violation of various laws and yet no steps or action is taken against its political or official leadership.
With sewage flowing through residential areas and into national water sources, the issue has already taken on the proportions of a national crisis.

And with Emfuleni owing more than R500 billion in water and electricity bills, residents are seriously concerned about the future.

National government must take note and action to prevent a total collapse.