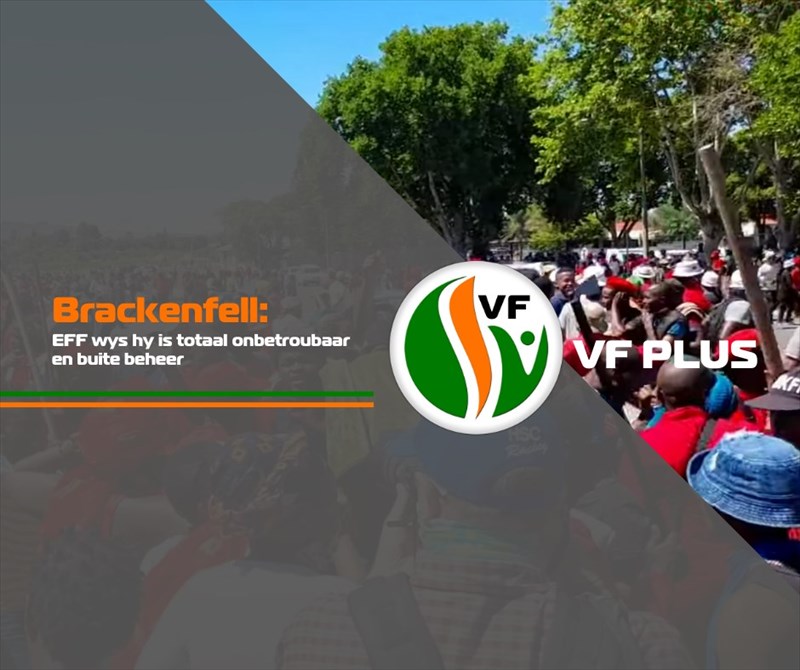 This morning, the EFF did exactly what the FF Plus had expected as the party showed absolutely no regard for a court order or its agreement with the police that only a hundred people will participate in a "peaceful" protest march to the Brackenfell High School.
At about twelve o'clock, the media reported that there were already more than 600 EFF members on their way to the school and at one point, the police had to use stun grenades and tear gas to keep them in check. Other witnesses estimated that the number of protesters was closer to 2 000.
It is abundantly clear that neither the members of the EFF nor its leadership has any regard for law and order as they did not honour a court order or their official agreement with authorities.
Therefore, in future any undertakings from the EFF as regards any protest actions cannot be taken seriously. Although the Constitutional Court confirmed the right to a protest action, it was on condition that the protest must be peaceful.
The EFF has repeatedly shown that it is not interested in peaceful protest actions. Instead, its actions are aimed at causing violence, unrest and racial division. It must no longer be tolerated.
What is equally unacceptable is the fact that the Human Rights Commission (HRC) has indicated that it will investigate racism at the school. Apparently, the EFF's thuggery and racialism are of less importance.
The HRC has already sacrificed much of its credibility with its biased approach and a response such as this one raises the question of whether the Commission is fulfilling its mandate at all and whether it is not actually doing the opposite of what it is supposed to by causing even more racial division.
It also appears as if the police did not enforce the relevant court order as by early afternoon the police, according to a Network 24 article, had apparently given the EFF permission to allow 500 people to participate in the protest.
This is making a mockery of law and order and the FF Plus will demand answers from the police and Cape Town authorities.