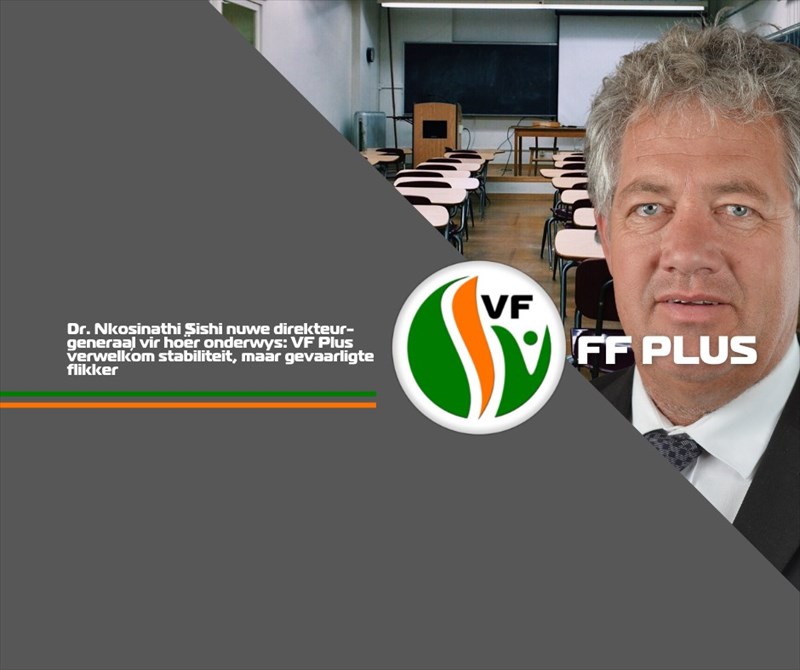 Dr Nkosinathi Sishi has been appointed as the new Director-General for Higher Education after the former Director-General, Mr Gwebikundla Qonde, was suspended on the 23rd of July this year.
Qonde opposed his suspension in the Labour Court, which then ruled against him on the 7th of September.
In the interim, the Department was under the guidance of an acting Director-General who is also the Director-General of Science and Innovation, Dr Phil Mjara. The FF Plus welcomes the stability that comes with the permanent appointment, but the party also hears alarm bells ringing.

Dr Sishi's academic background is rooted firmly in the field of education as he possesses experience in both school and university teaching. He also held various senior offices in the Department of Higher Education, including the office of Deputy Director-General.
The alarm bells were set ringing by his conduct while in the service of the Passenger Rail Agency of South Africa (PRASA), where he was the Chief Executive Officer up until his most recent appointment. There he was surrounded by controversy because the contract for a large infrastructure project had been awarded to the Development Bank of Southern Africa, but the correct procurement procedure was not followed.
Sishi's first term at the Department of Higher Education coincided with Dr Blade Nzimande's first term as Minister of the Department. His appointment at PRASA in 2018 also followed close on the heels of Nzimande's appointment as Minister of Transport at the time. And now he is trailing behind Nzimande to the Department of Higher Education.

When a senior official keeps moving office with a minister, it inevitably raises the question of whether that official is being appointed for his capabilities or as a loyal supporter. On paper, Dr Sishi does have the background to make a success of his new job. The onus is now on him to silence the sceptical voices with the quality of his work.
The FF Plus wishes Mr Nkosinathi Sishi all the best for his new position. He must be given the benefit of the doubt, while a close eye must be kept on how he manages the Department.