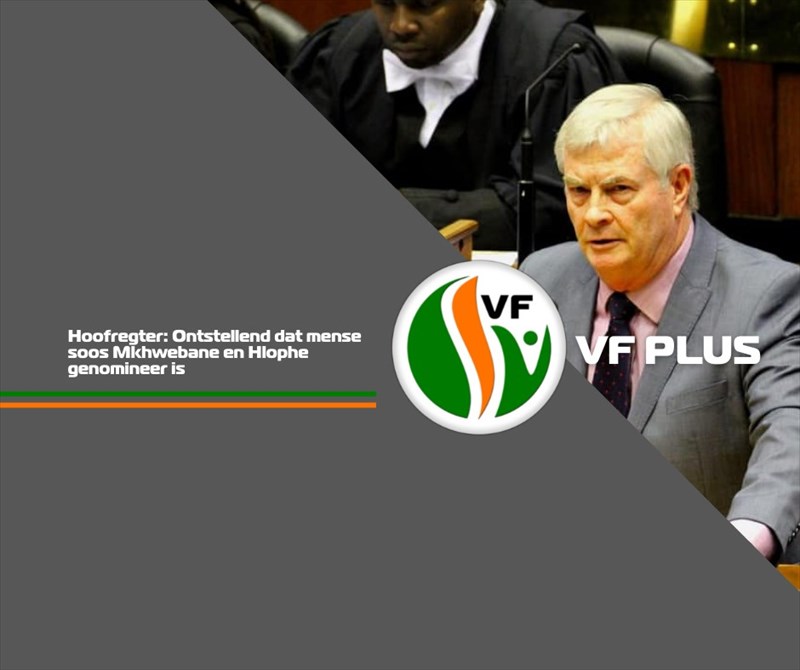 The FF Plus finds it seriously alarming that there are institutions and people who are willing to nominate controversial individuals, like John Hlophe and the current Public Protector (PP), Adv Busisiwe Mkhwebane, for the position of Chief Justice of South Africa.
The incompetence that Mkhwebane demonstrated as PP is of such a serious nature that there is currently a parliamentary process underway to get rid of her.

And with regard to Hlophe, the current Judge President of the Western Cape, the Judicial Service Commission (JSC) informed Parliament in August this year that he is facing impeachment as a result of an accusation of undue influence.

According to media reports, lobby groups like the Black Lawyers Association and Democracy in Action nominated Hlophe and Mkhwebane.

The controversy surrounding these two individuals stands in stark contrast to what is expected of persons who ought to be above reproach in every respect as regards the law.

Thus, the FF Plus will lodge objections to the possible appointment of any one of these two individuals as Chief Justice.

The process must now run its course and the FF Plus will wait and see what the panel of Judge Dhaya Pillay, which is tasked with compiling a short list of between three and five judges and submitting it to President Cyril Ramaphosa, comes up with.

Subsequently, the President will ask all political leaders for their input and based on the nominations, I will, as leader of the FF Plus, officially lodge objections if need be.

The simple fact that people like Hlophe and Mkhwebane were nominated proves that there is something seriously wrong in South Africa and the FF Plus views it as a blemish on the integrity of the country's legal system.