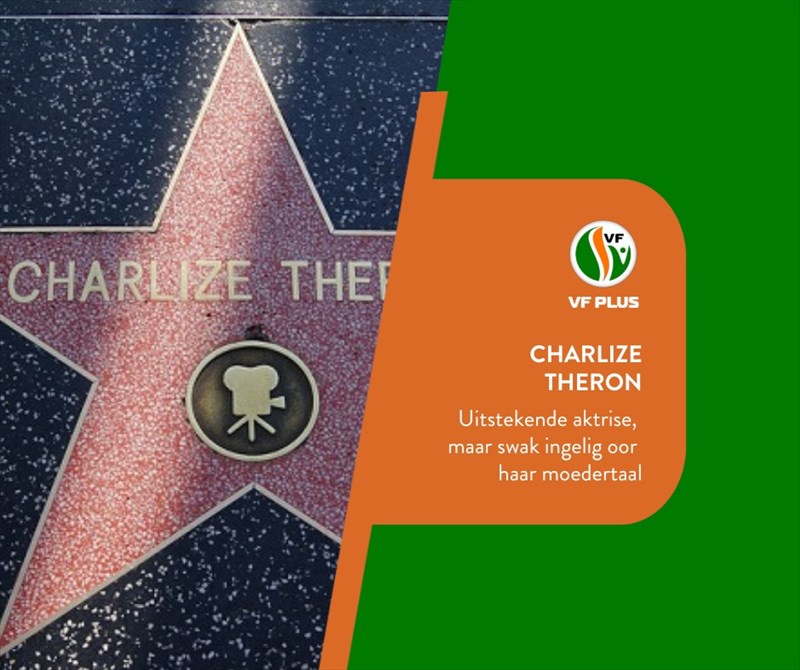 Like many other South Africans, the FF Plus is proud of what Charlize Theron has accomplished as an international actress. Especially her Oscar for best actress in the movie "Monster".
Her recent statements about her mother tongue Afrikaans, including that it is only spoken by about 44 people, clearly demonstrate that she is not up to date with what is going on in her country of birth, though. The FF Plus would like to put her right.
The party suspects that more people in Charlize's home town, Benoni, speak Afrikaans than any other language.
Here are the facts as determined by Statistics South Africa's 2019 General Household Survey (GHS) of the most popular and biggest languages in South Africa (afrikaans.com).
These figures are based on the languages mostly spoken in and outside the home, including at schools and in the work environment.
• Number 1: 25,3% of people speak Zulu at home.
• Number 2: 14,8% of people speak Xhosa at home.
• Number 3: 12,2% of people speak Afrikaans at home.
As a home language, English comes in at a modest sixth place.
The fact that so many people use English as a colloquial language is merely the result of an institutional language straitjacket that the ANC government created to try and elevate a foreign language to the general spoken language used by all South Africans.
After nearly 30 years, it does not look like the English horse is faring too well with its sixth place.
It is also clear that every mother tongue in South Africa is cherished and loved by its speakers.
Not all languages are international languages. But it makes them no less loved by the people who use them. It is a harsh reality, and it is how it should be.
Maybe Charlize should consider acting in a South African movie in her own language seeing as films with English subtitles are rapidly gaining popularity and are even in the running for Oscars.