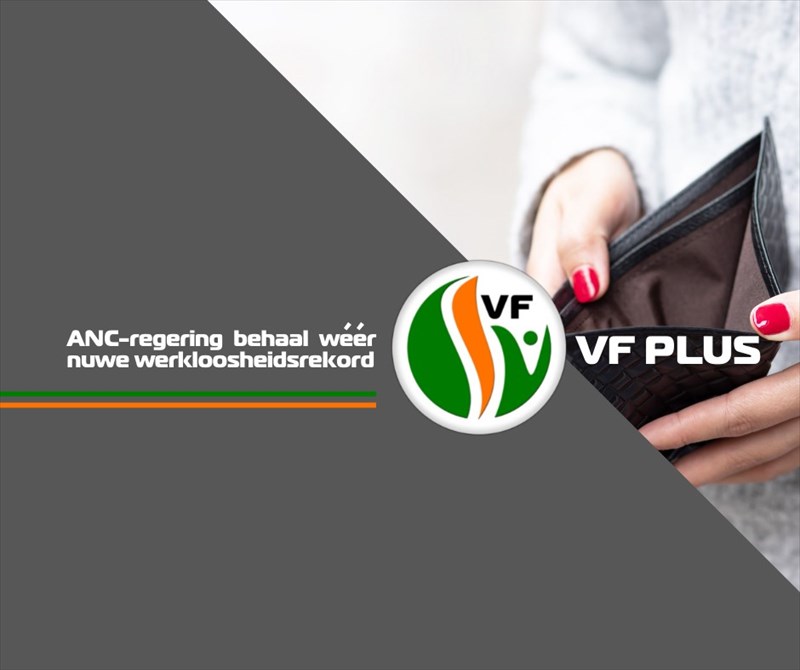 The spike of 0,5% in South Africa's official unemployment rate since the second quarter of this year, which brings it to a new record-high level of 34,9%, should come as no surprise to the government.
The expanded unemployment rate currently stands at about 46,6%. This figure includes the people who have lost all hope of finding a job.
The latest figures reflect the consequences of July's unrest in KwaZulu-Natal and Gauteng, which resulted in the loss of many job opportunities. Those are the two provinces that are responsible for more than half of the economic activities in the entire country.
The government must realise that it is busy knee-haltering the economy and hampering job creation with its ideologically driven policy, administrative red tape and incompetence, which are severely restricting the private sector.
The FF Plus wants to re-emphasise the importance of the private sector in bringing about economic growth.
This sector must be helped, cherished and encouraged. At the moment, though, quite the opposite is happening. This is evident in what happened with the Employment Equity Amendment Bill, which was steamrollered through Parliament and adopted by an ANC majority vote.
This law will further undermine the private sector's scope to grow and create more jobs.
Because the government is failing to empower the private sector to create jobs, the government itself is trying to create more jobs through various failed job-creation projects and initiatives, but it has resulted in a vicious cycle of economic decline.
The more pressure is put on the private sector, the more the tax base will shrink and the more the government will struggle to carry the increasing social burden as primary job creator.
The unemployment rate is reaching new record-high levels every quarter and it will continue along this trajectory as long as the government continues to implement its misguided policy.
What is particularly alarming about the latest report on unemployment is the fact that hopeless jobseekers, those who have given up hope of finding a job and are no longer looking, has increased with 16% because the labour market is becoming more and more inaccessible.
The labour market is mainly created and expanded by the private sector, and the fact that the private sector is continually shrinking – as it has been from long before the Covid-19 pandemic – can only be attributed to the short-sighted and harmful policies and governance of the ANC.