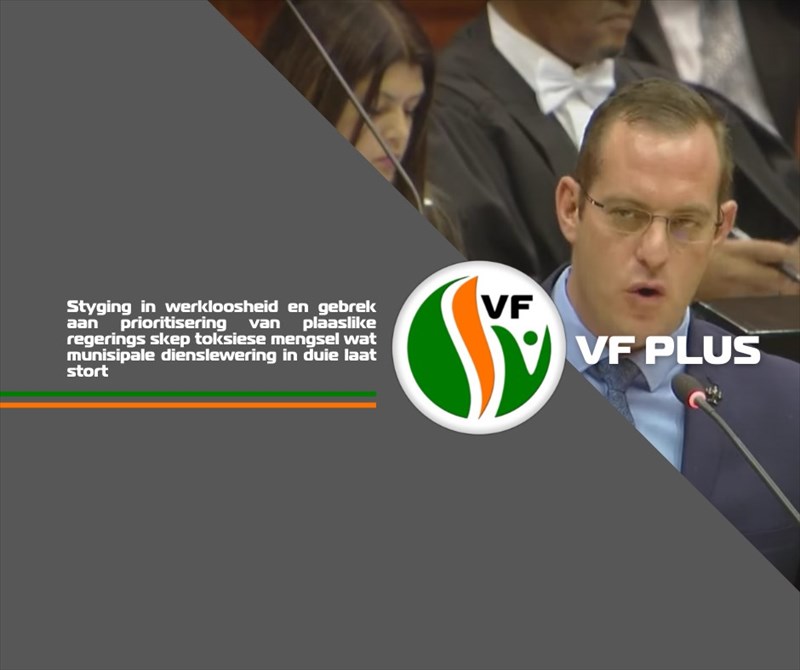 The government's lack of proper prioritising and focus on local government, as is evident in the Division of Revenue Amendment Bill, along with the recent increase in the official unemployment rate contribute to a toxic mix of factors that could send municipal service delivery across the country over the edge of ruin.
Municipalities countrywide are already facing serious financial challenges due to a fast-shrinking tax base, which is exacerbated by the Covid-19 pandemic. Hundreds of small to medium enterprises had to close down due to the Covid-19 related restrictions.
Large-scale dismissals of employees followed and thousands of households were left with no form of income, consequently, a large part of the population cannot afford to pay their municipal rates and taxes. Add to that the extensive looting of the available municipal funds by corrupt ANC-deployed officials and politicians and you have a recipe for the total destruction of service delivery.
The government's apparent apathy toward the fate of local authorities will result in an even greater burden being placed on loyal taxpayers. Residents are already paying for poor service delivery and in many cases, for services that are not being provided. This is causing a growing resistance among taxpayers and could result in a tax boycott.
It is abundantly clear that the government's policy solutions, consisting of centralising powers even more and expanding totally unsustainable "job-creation" projects, are ineffective and no more than wishful thinking.
The FF Plus will continue to put pressure on all levels of government to ensure sensible spending priorities and to combat corruption and mismanagement. FF Plus councillors countrywide will also focus on creating business-friendly environments to facilitate effective job creation so as to restore stability to municipalities' tax bases.