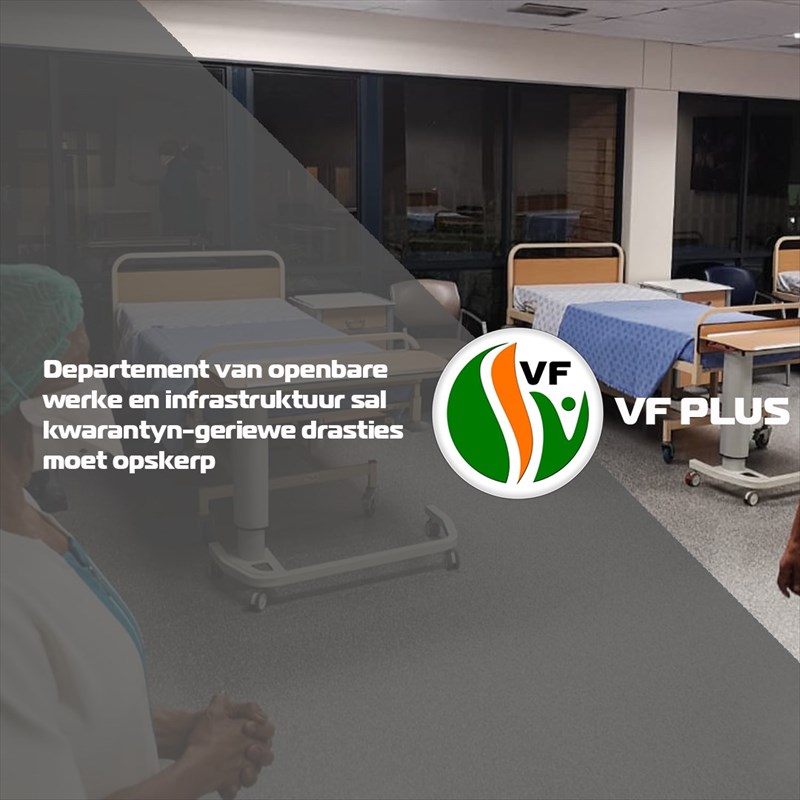 The conditions at the quarantine facilities that the Minister of Public Works and Infrastructure, Patricia de Lille, earmarked specifically for the Covid-19 pandemic, must be improved drastically.
Minister De Lille identified 37 to 52 premises last month and these include government buildings, hotels, holiday resorts and hospitals. The locations of some of these facilities are, however, still unknown and the biggest problem coming to light at the moment is that many of these places are not yet ready to fully serve their purpose.
Since last week Saturday, the FF Plus has been receiving complaints about the facilities at the D'Nyala nature reserve in Lephalale, Limpopo, the Harry Surty hospital in Upington, the Eiland holiday resort in Upington and yesterday about the MDR TB unit in Modimolle (Nylstroom), Limpopo.
Complaints ranged from no water and food being available to places that are filthy and food that is inedible.
The FF Plus communicated these complaints to the Department and the Ministry of Health and received good feedback. In each case, swift action was taken to solve the problems.
It, however, seems like the Department of Public Works and Infrastructure did not pay enough attention to the facilities after they had been earmarked as quarantine centres and also did not perform the necessary inspections to ensure that the facilities meet the requirements.
The FF Plus hopes that Minister De Lille will focus her attention on the problem and that the public and patients will no longer have to lodge complaints before something is done about it.
Any further problems at these facilities must be addressed at once so that everything is ready should there be a great influx of patients.