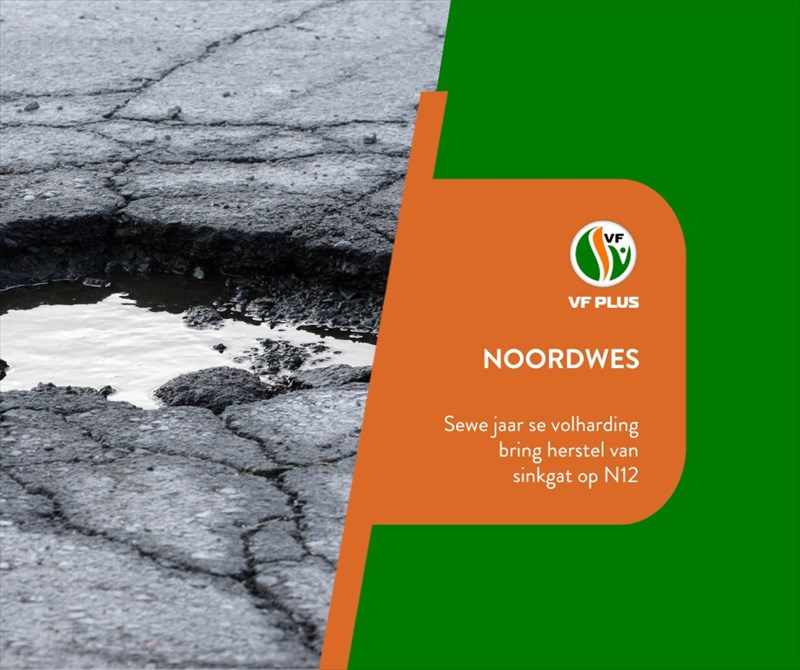 The FF Plus welcomes the fact that repairs to the sinkhole on the N12 highway near Stilfontein in the North West will start soon.
The contractor, Ultimate Dynamic Stilfontein, informed the FF Plus that the contractual processes have been finalised and that the company has been awarded the contract.
The repair work follows years of perseverance by the FF Plus to ensure that the matter remained on the agenda on all levels of government.
The sinkhole formed right next to the highway near a reservoir in December 2015 already. Traffic flow on the main route was severely disrupted and had to be rerouted for a long time before the area had been stabilised.
At the time, the road was partially re-opened for traffic, but no further repairs had been done up to now.
The FF Plus kept putting pressure on the national Department of Transport, North West's provincial government and the Matlosana Local Municipality to repair the road and ensure that the surrounding areas are safe.
The fact that it took seven years to start such important repairs to a national main route is indicative of an ANC government that, as a result of a lack of expertise and apparent inability to prioritise the country's interests, disrupts the country's economy to the detriment of all South Africans.
South Africa deserves better than the ANC.