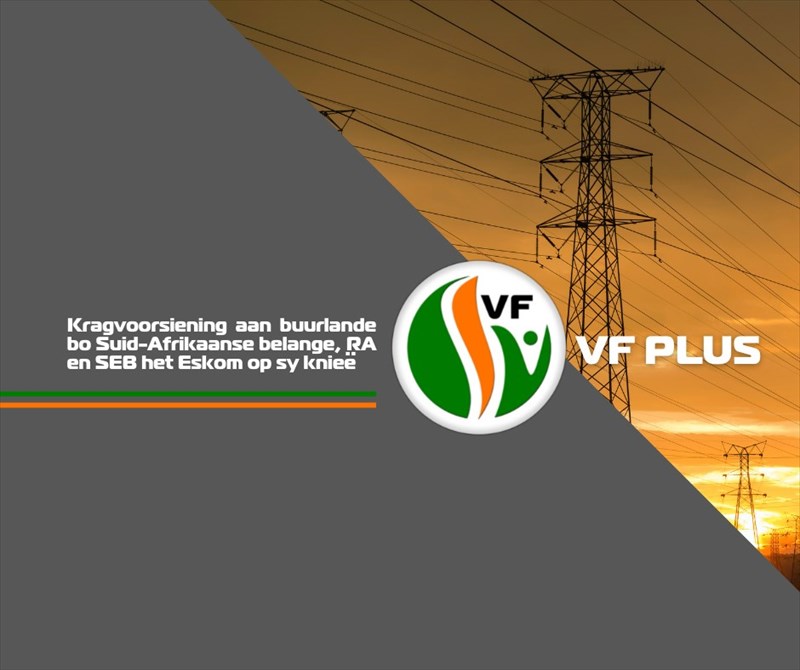 South Africa's power crisis is clearly the direct result of supplying power to neighbouring countries, like Zambia and Zimbabwe, at the expense of South Africa, corruption under the smokescreen of Black Economic Empowerment (BEE) and incompetent officials, appointed in accordance with the policy of Affirmative Action (AA).
Earlier today, Eskom's chief executive officer, André de Ruyter, used the image of a dead horse to describe Eskom. The strong image confirms the dire situation in which the power utility currently finds itself.
It could be inferred from De Ruyter's explanation of the problems currently experienced by Eskom this afternoon that South Africa has basically been forced to come to a standstill in order to keep neighbouring countries up and running while the country's power grid is collapsing on various fronts.
The problems that were listed are indicative of an organisation that has fallen into utter ruin. These problems range from widespread and general maintenance shortcomings to a shortage of diesel, essential parts that cannot be procured and incompetent staff, who are reportedly to blame for the recent explosion at the Medupi power plant.
It is unacceptable that crucially important top-management positions are filled by ignorant Affirmative-Action appointments. The FF Plus has been pointing out the dangers and disadvantages of BEE and AA for many years and what is currently happening at Eskom serves as proof that the party's warnings were not unfounded.
A further detrimental consequence of BEE is the appointment of contractors whose only goal is self-enrichment; it creates a fertile breeding ground for inflated prices, poor quality replacement parts and incompetence.
A few examples include the procurement of fluorescent lights, which cost a mere R63 at general hardware stores, for R900 each, milk that was procured for R56 per litre and brooms that cost a staggering R280 000 each. That is how BEE is implemented in practice.
South Africa cannot afford this type of institutionalised fraud and corruption under the smokescreen of BEE. It is enriching a select few, while the country's people are paying the price.
The FF Plus wants to reiterate that President Cyril Ramaphosa must shoulder all the blame for the situation at Eskom. In the past, he failed to implement a sustainable turn-around plan, despite being appointed to do so, and now as President, he is once again failing to ensure that Eskom is turned around.
The recent power outages are having a severely detrimental impact on businesses that are already in crisis due to the pandemic and associated lockdown regulations. It also affects all learners who have to study for their final exams.
Alternative power suppliers must now be allowed to invest in the country's power grid. Thus far, such offers were turned down due to the ANC's ideology.
Ultimately, Eskom can only be turned around through immediate privatisation. The ANC has demonstrated time and again that it is not willing to abandon its destructive policies of BEE and AA and while these are still being implemented, all attempts to fix Eskom will amount to flogging a dead horse.