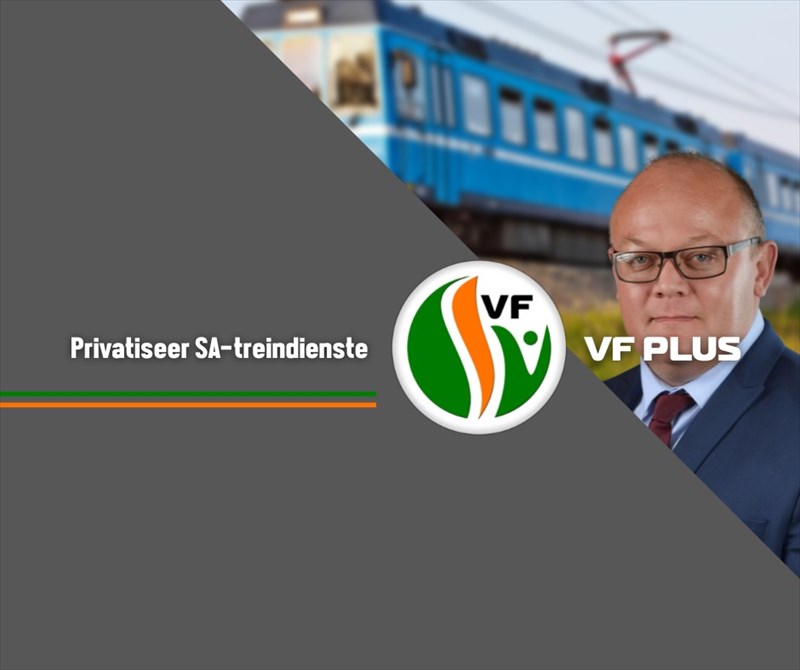 Privatising Transnet and PRASA is the only solution to the decay of the railway network and train services in the country.
Under 28 years of ANC rule, these two government-controlled companies brought about the destruction of a once effective train service and railway network.
According to reports, the number of train passengers decreased over the years from 500 million to just 17 million per year.
The number of functional train stations decreased from 590 to 129. A total of 461 train stations are no longer in use, and have been vandalised and carried off bit by bit.
Hundreds of kilometres of railway have been plundered and sold as scrap metal due to a lack of supervision and maintenance.
Between 2017 and 2019 alone, nearly R1 billion in tax money was spent on seemingly fruitless attempts to repair railway infrastructure. While PRASA spends a further R1 billion per year on security.
Add to that the already known cases of corruption amounting to millions of rand with the procurement of locomotives, in which various PRASA managers were implicated, and the reasons for the decay of national assets become clear.
This is yet another example of the consequences of ANC cadre deployment and the accompanying unbridled self-enrichment at the expense of the country's people.
Transnet has, furthermore, awarded contracts worth R25,5 billion for the construction of 554 locomotives to CRRC, a government-owned Chinese company that is struggling to meet its commercial service obligations, since 2011.
To make matters worse, the amount has grown to R54 billion in the meantime.
Examples of mismanagement and corruption at these public enterprises are legion.
It is, therefore, urgent and vital to place Transnet and PRASA under professional private management for the benefit of all South Africans.
The ANC must not be allowed to continue wasting billions of rand in tax money to finance the ongoing mismanagement, corruption and decay at PRASA and Transnet.
South Africans deserve better than the ANC.