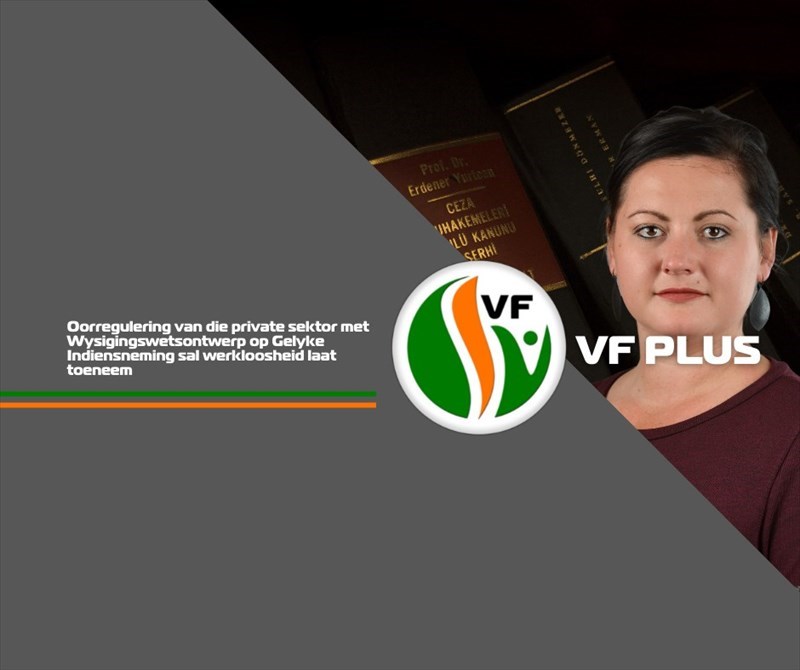 It is a dark day for job creation and the private sector in South Africa's progress after the ANC steamrollered yet another ill-conceived and failed ideologically driven amendment bill through Parliament with its majority vote.
In the past, the FF Plus and other opposition parties were able to prevent the adoption of the Employment Equity Amendment Bill by ensuring that quorum could not be reached in Parliament.
However, today the ANC made doubly sure that it had the required number of Members of Parliament in the House to ensure that the Bill is passed. In order to put an end to the adoption of similar senseless and dangerous legislation in the future, the ANC's representation in Parliament must be reduced to below 50% in the next general elections.
The FF Plus is strongly opposed to cosmetic transformation targets and restrictive labour legislation, which sets sectoral targets in an attempt to impose transformation in a superficial way to the detriment of economic growth and job creation.
Affirmative Action legislation does not alleviate poverty neither does it create much-needed job opportunities. At present, more than 27 million South Africans are dependent on social grants and it is unsustainable.
The only way to effectively alleviate poverty and create more jobs is to establish a favourable environment for the private sector. This piece of legislation is, however, doing the exact opposite.
The proposed Amendment Bill will afford the Minister of Labour the power to determine race-based targets for the various industrial sectors.
Employers in the private sector's voluntary compliance with reasonable employment targets will, in terms of the new amendment, no longer be applicable and more stringent compliance, through certificates issued by the Department, will be imposed.

The FF Plus is of the opinion that the labour market is already being over-regulated. Legislation, like the National Minimum wage, the arbitrary expansion of unfair collective bargaining agreements and amendments, such as this one, to legislation are all counter-productive and hamper job creation.
This policy along with the ANC's other failures, like the country's educational system, is destroying the economy and excluding the majority of South Africans from the labour market.