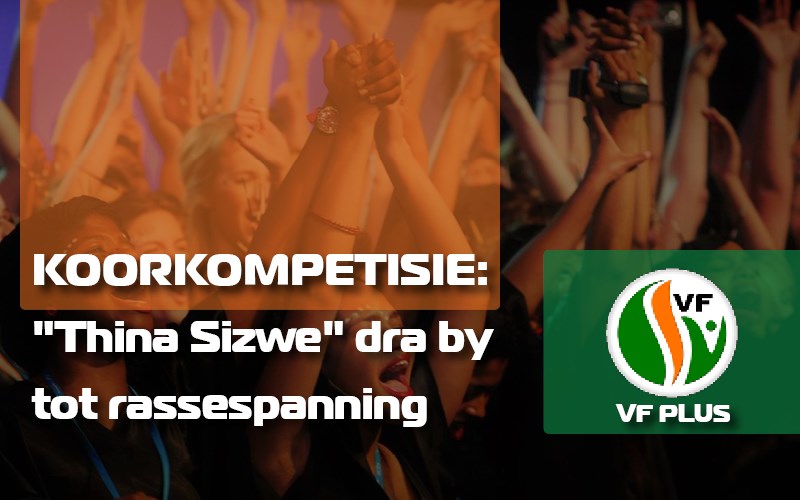 The FF Plus requested the organisers of the recent International Choir Competition in Pretoria to condemn the singing of the struggle song 'Thina Sizwe'.
In a letter addressed to the representatives of Interkultur South Africa, the foundation that hosted the choir competition, the FF Plus leader, dr. Pieter Groenewald points out that the lyrics of the song, which states among other things that white people stole the land from the black nation, can contribute to racial polarisation regarding the issue of land in South Africa.
Interkultur states that it "is born by the idea of bringing together people of all countries, cultures and world views in peaceful competitions."
"Groenewald if the foundation, however, does not condemn the lyrics of Thina Sizwe, it would mean that Interkultur is failing to meet this aim as the song is blatantly biased and stereotypes white people.
"It is also in contravention of the United Nations (UN) International Convention on the Elimination of All Forms of Racial Discrimination of 1965.
Furthermore, reports in the media indicate that some of the participants were not comfortable with singing the song and, therefore, refused to sing in the mass choir. Apparently, the translated lyrics of the song were also not made available to the choir members straight away.
Groenewald says the South African Constitution makes provision for and protects the freedom of speech, but it is unacceptable that white people are being portrayed as the scapegoats through a biased interpretation of a very complex South African history.
"Political statements in the same vein have paved the way for the government's plan to expropriate land without compensation as it has brought about a climate where white people are blamed for supposedly causing all the problems, including all the ANC's failures.
"Such statements about land have already resulted in illegal land occupations, an increase in farm attacks and subtle threats made towards landowners who refuse to give up their land. When a mass choir sings something like Thina Sizwe at an international competition, it only adds to the racial tension in South Africa.
"It would be irresponsible of Interkultur not to condemn the song's blatant racial polarisation," Groenewald says.