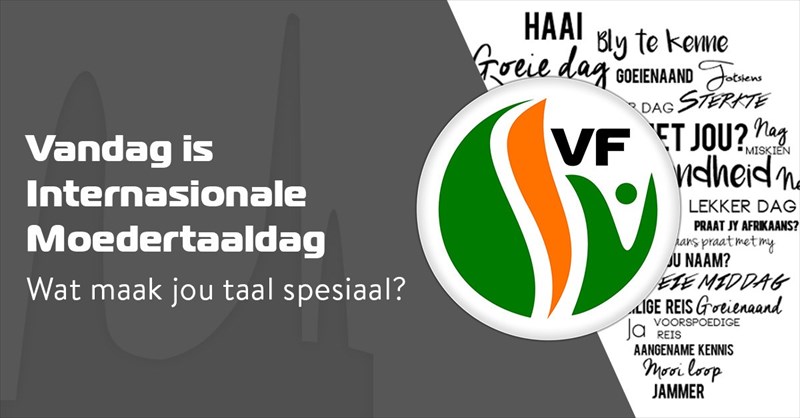 The FF Plus welcomes the international attention focused to the importance of mother tongues during today's observance of International Mother Language Day, particularly in the context of the numerous assaults on Afrikaans on almost all levels – from the language's educational and academic role to its use as official language in places like legislatures and courts. Language freedom is an internationally recognised basic human right.
There is also strong opposition against Afrikaans in the political arena and the tirades of political parties, like the EFF, are common knowledge. It is, thus, important for Afrikaans as a language of instruction and general use to have political clout so that it can survive the assaults.
Across the world, there are a small number of languages that keep growing at the expense of minority languages. It is mainly the languages of colonial conquest that keep growing at the expense of the languages of the subjugated. This matter lies at the heart of the debate on the decolonisation of society as a whole, but particularly education, science and technology.
Every two weeks a language in the world dies out and at present, 43% of the 6000 languages worldwide are in jeopardy. Therefore, it is of the utmost importance that South Africans do everything that they possibly can to protect and promote their 11 official languages.
South Africa offers a good example of where a minority language, like Afrikaans, is steadily losing ground in the academic field due to the preference for English. Instead of insisting that Sotho and Nguni languages must be developed so as to make science and technology accessible to all South Africans, mother-tongue speakers themselves insist on speaking English.
Afrikaans speakers also tend to prefer English as academic language. This is true for both students and academics. In most cases where Afrikaans universities became anglicised, Afrikaans academics played an active role and Afrikaans students readily accepted it.
One reason for why education on all levels is becoming more and more English is that the working world is predominantly English. Here the government plays a decisive role as in practice, English is used as the only official language.
The private sector is merely following suit and as a result, English mother-tongue speakers – who make up less than 10% of the country's population – can widely and generally function using their home language.
Smaller languages may opt to become nostalgic about their heritage once a year, but that per se will not ensure their survival. What is needed is political clout.
The number of mother-tongue speakers of a language in relation to a country's entire population is not as important as well organised and continued action to ensure that the language takes its rightful place as one of the "languages of conquest".
In South Africa, the FF Plus is the only party that continually fights for Afrikaans and other mother tongues on the political front. It is also the only political party that believes that there is a fundamental flaw in the South African Constitution that enables the government to marginalise mother tongues.