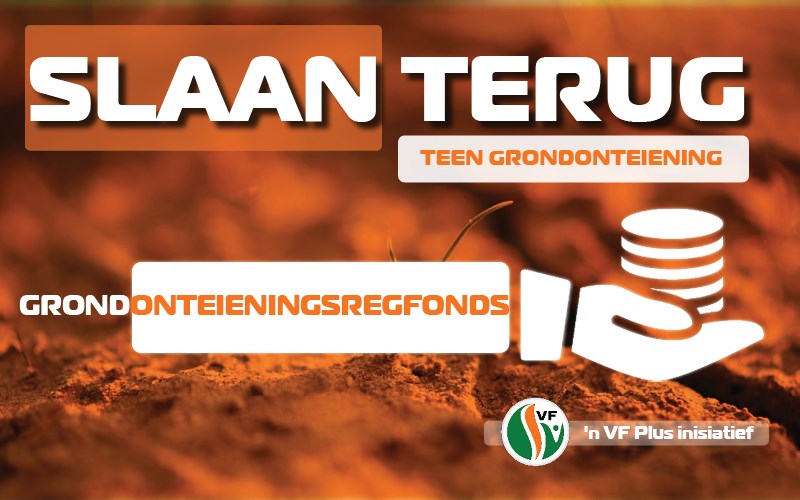 As part of the Fight Back SA campaign, the FF Plus initiative to oppose expropriation without compensation, the FF Plus created the Land Expropriation Legal Fund to help cover the legal costs of people that may be affected by land grabs as well as the legal costs that may arise from opposing the amendment to the Constitution that will make expropriation without compensation possible.
This trust fund forms part of the FF Plus's plan of action against expropriation without compensation, for which a motion was adopted in Parliament. In accordance with the motion that was adopted in Parliament, the Constitutional Review Committee must consider the proposed amendment to Section 25 of the Constitution and make recommendations to Parliament.
Other avenues that the FF Plus will pursue in order to oppose the amendment to the Constitution are:
a petition against the planned amendment;
mass protests;
talks with President Cyril Ramaphosa;
information sessions where the public will be informed of the danger of amending Section 25 of the Constitution; and
the internationalisation of the threats that expropriation without compensation pose to South Africa's democracy by means of participation in international forums.
Even though it may take months to have expropriation without compensation passed in Parliament, it is imperative to implement civil and political mechanisms and processes as soon as possible.
This is in the interest of everyone who is worried about the fact that the amendment to Section 25 of the Constitution may compromise one of the most fundamental rights of our democracy, namely the right to and protection of ownership.
For those who are interested in making financial contributions to the FF Plus Land Expropriation Legal Fund, the details are as follows:
Bank: ABSA
Account name: Grondonteienigsregfonds (Land Expropriation Legal Fund)
Account number: 90651 71059
Branch code: 632 005
People already being affected by illegal land grabs can inform the FF Plus by making use of our emergency email address: hulp@vfplus.org.za