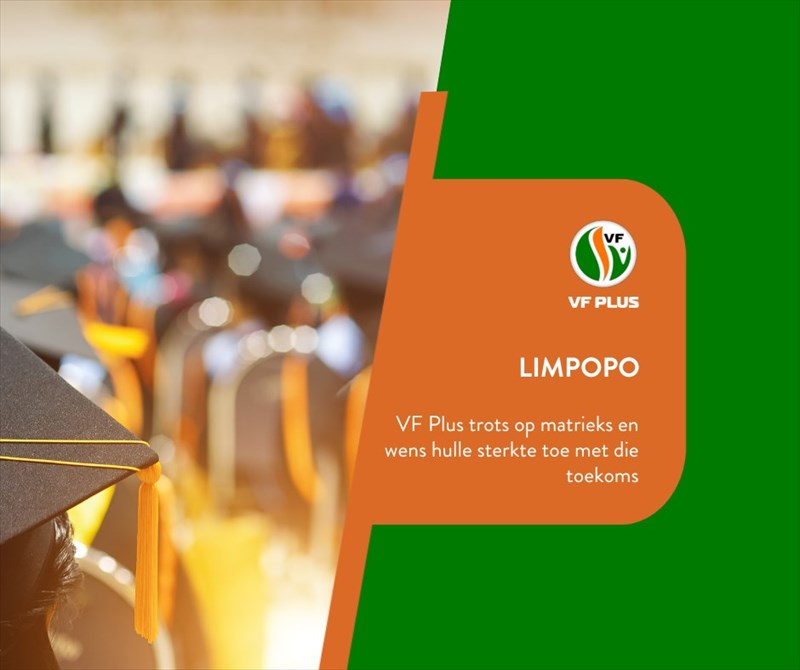 The FF Plus herewith congratulates Limpopo's matric class of 2022 with their pass rate of 72,1% and wishes them all the best for the future ahead.
After many hours in front of their books, the matrics' hard work has paid off.
The province's pass rate has grown with 5,3% since 2021.
In 2021, the province achieved 66,7%. The previous years' pass rates are as follows:
2018 – 69,4%
2019 – 73,2%
2020 – 68,2%
After KwaZulu-Natal, Limpopo's results showed the most improvement.
The FF Plus wants to particularly congratulate Zoë Burman, who matriculated from the Stanford Lake College, with her exceptional performance, which earned her a place on the prestigious Independent Examinations Board's list (IEB list) for the National Senior Certificate.
Zoë achieved a total of nine distinctions and received, among other things, 100% for Mathematics. Her performance earned her a spot among the top 1% of the 2022 matrics in the country for Mathematics, English Home Language, Life Sciences and Physical Science.
Countrywide, the Movement for Christian-National Education (BCVO) schools achieved a pass rate of 100% and the chief executive officer, Ms Lucia van Wyk, personally handed over the results of the matrics of the CVO-school in Potgietersrus.
Jolanie Nel achieved seven distinctions, which places her among 5% of all IEB candidates countrywide. She is also among the top 1% of all IEB candidates with her Consumer Sciences and Life Sciences results.
It is indeed an achievement to be proud of.
The FF Plus encourages all matric learners who were unsuccessful to try again. Although matric is not everything, it does offer a firm foundation on which students can continue to build with further studies.
The FF Plus looks forward to seeing what new heights Limpopo's matric class of 2022 will reach in the future.