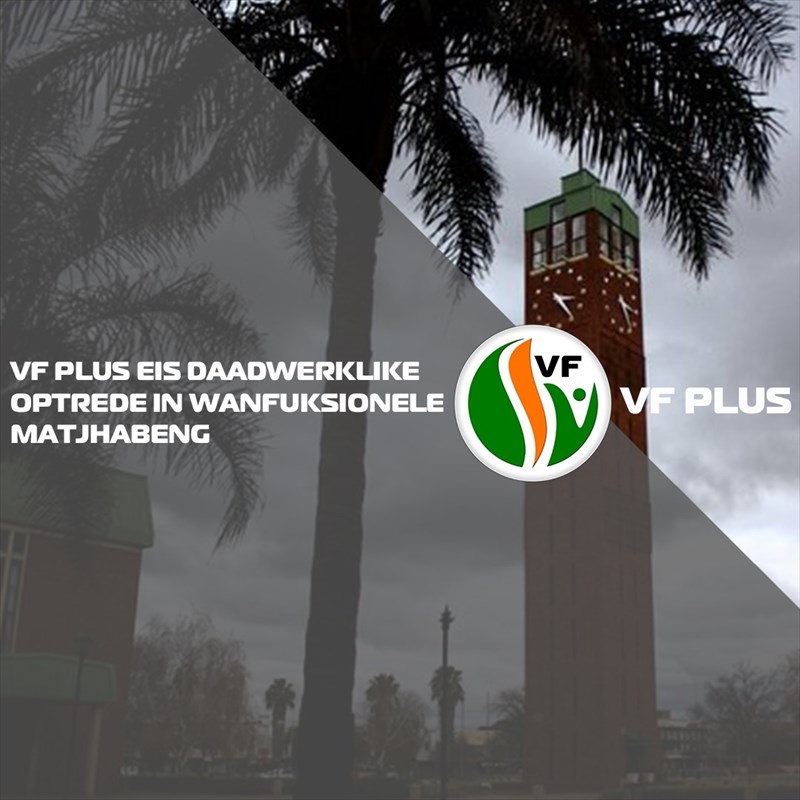 Quick and effective political action is needed to turn the Matjhabeng Local Municipality (Allanridge, Hennenman, Odendaalsrus, Ventersburg, Virginia, Welkom) around as it received a Section 106 notice from the Free State government on Tuesday.
In terms of the notice, the MEC for Cooperative Governance and Traditional Affairs (COGTA) requests more information about the Municipality's statutory responsibilities and what Matjhabeng has done to address the maladministration, fraud and mismanagement.
The FF Plus takes note of the fact that the Free State government has intervened in Matjhabeng, but there is a possibility that yet another investigation by the Department could come to nothing as was the case in 2018 when the then MEC, Oupa Khoabane, also issued a Section 106 notice to the Municipality but no further steps were taken.
This is the heritage of years of looting and a lack of political will from the ANC in Matjhabeng: last weekend's water crisis in the Municipality, leaking water pipes that do not get repaired, sewage flowing down the streets, potholes that do not get repaired and municipal workers who do not get paid.
Last year, the Auditor-General (AG) also named Matjhabeng Municipality one of the worst municipalities in the country. The FF Plus shared the AG's concerns as at the time the Municipality had already squandered more than R169 million of taxpayers' money on fruitless and wasteful expenditure.
The FF Plus will ask the MEC, Thembeni Nxangisa, to ensure that the Department's report and proposals are presented to the Committee for Cooperative Governance in the Free State Legislature as soon as possible.
The FF Plus will keep fighting back to ensure that the plans for Matjhabeng are turned into feasible and effective actions so that the residents can get the service delivery that they deserve.