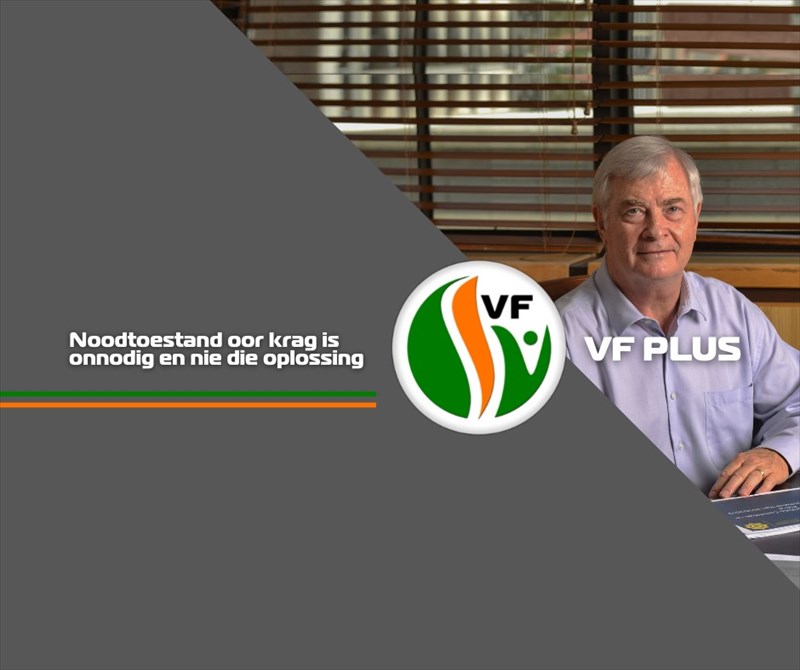 It is not necessary to declare a state of emergency to solve the current electricity crisis.
In terms of the Electricity Regulation Act, the Minister of Mineral Resources and Energy, Gwede Mantashe, has the power to eliminate the administrative red tape currently restricting, for example, the private generation of electricity.
The FF Plus has repeatedly voiced its opinion that the solutions to the country's power problems lie in private power generation, outside of government's direct sphere of influence.
In order to implement those solutions, though, needless administrative red tape must be eliminated and policy changes must be made, a state of emergency does not have to be declared to achieve that.
Instead of declaring a state of emergency, Parliament's constituency period must be suspended so that it can consider an emergency budget, make the necessary legislative amendments and perform oversight so as to address the crisis.
The regulations aimed at eliminating procurement processes under a state of emergency could possibly pave the way for corruption – as was seen with the Covid-19 state of disaster.
In addition, the chances of any financial bailouts being successful are slim with the ANC at the steer of things. Years of exorbitantly expensive bailouts for the SAA and other public enterprises as well as municipalities serve as proof.
The FF Plus is, furthermore, concerned that a state of emergency may be exploited to impose inappropriate, environmentally unfriendly solutions that would never be considered viable in terms of ordinary regulations and market conditions.
The Minister of Mineral Resources and Energy repeatedly expressed his support for seismic exploration and hydrofracking, both of which pose serious environmental risks. Up to now, such undertakings have been stopped only by court orders.
Earlier this year, government was met with strong opposition to its emergency power programme that relies heavily on power ships, while tender processes have also raised some questions.
Floating power stations on ships must dock in harbours and connect to the power grid. Their main source of energy is natural gas and South Africa does not have the infrastructure needed to get natural gas to our harbours.
Moreover, none of our harbours have the connections needed to push that kind of charge into the grid.
In principle, the FF Plus is not opposed to using nuclear power. But the extent and immediacy of the country's power crisis means that it is not an option at this stage. The recent attempts to extend Koeberg's lifetime also raise more questions than answers.
The current power crisis relates mostly to coal-fired power stations. The existing power plants are collapsing as they have already surpassed their lifetimes and have not been maintained properly.
Government's efforts to keep using coal to generate power led to Medupi and Kusile – and everyone knows what an expensive fiasco they turned out to be.
Ultimately, the root cause of Eskom's collapse lies in government's incompetence and the direct consequences of Affirmative Action (AA) and corruption. It has become inextricably part of the ANC.
South Africa will only be able to keep the lights on once it has gotten rid of the ANC.