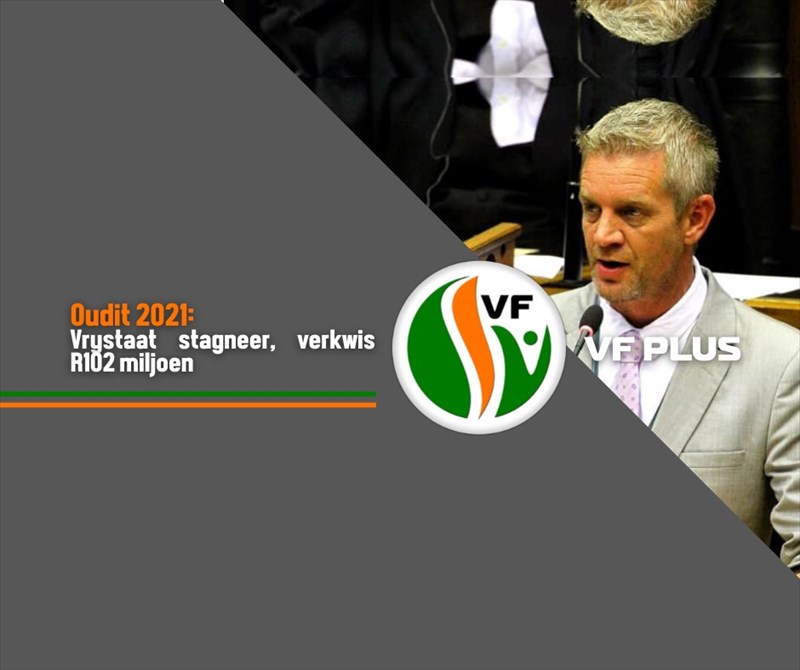 An increase of R26 million in wasteful expenditure proves that the Free State ANC government is unable to manage the province's finances.
Fruitless expenditure in the Free State amounted to R71 million in the 2019/2020 financial year, but skyrocketed to R102 million in 2020/2021. The province has been deteriorating for years with no sign of improvement.
Not a single provincial department was able to achieve better audit outcomes for the year in question.
Even the provincial Treasury received poorer audit outcomes than the previous financial year.
The Auditor-General's (AG) overall impression of the Free State is that the province failed to limit financial irregularities.
Irregular expenditure for the past financial year amounts to R2,2 billion.

With a staggering R1 billion in irregular expenditure, the Departments of Police, Roads and Transport are jointly responsible for almost half of these expenses.
The AG also identified six instances where goods and services were paid for, but were never received. Material irregularities, which include outstanding debt, value for money and inadequate salary systems, amounted to more than R128 million.
The lack of proper political and administrative leadership is undeniably obvious. This is underscored by the fact that the province's Treasury, which is supposed to set a good example for the other departments, also received poorer audit outcomes.
The ANC's bad habit of not holding anyone accountable for the province's financial irregularities is costing the province hundreds of millions of rand every year.
The people of the Free State deserve a government that shows political and administrative leadership, and does not squander the public's tax money.