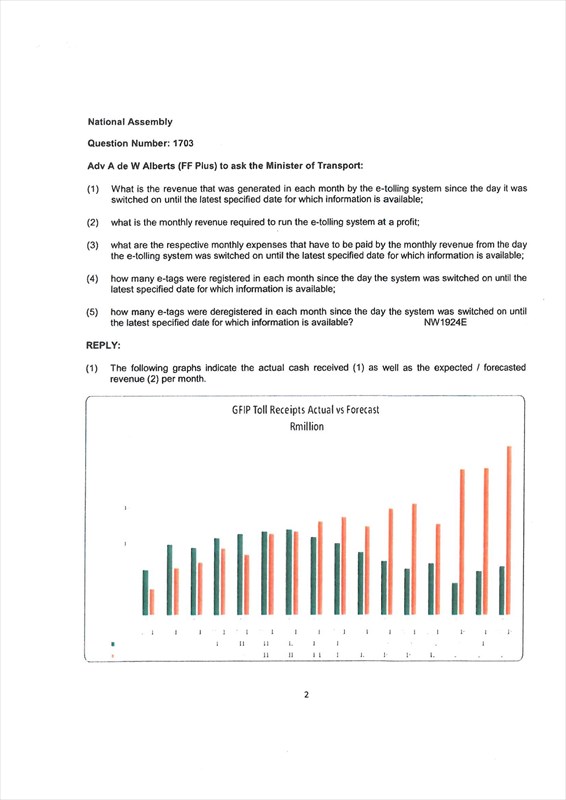 Expectations and projections about the income that would be generated by e-tolls, is not materialising and according to statistics the FF Plus obtained following a parliamentary question the opposite seems to be happening, Adv. Anton Alberts, the FF Plus' parliamentary spokesperson on Transport says.
According to Adv. Alberts, a table about the real income and projections of income in the first seven months after e-tolls had been implemented in December 2013 shows that income had grown month on month following which it started a sharp decline in June 2014.
In contrast with the real income, the projections show excessive expectations which from March this year have been two-thirds higher than the real income. No figures were added to the table and the FF Plus has asked that it be provided.
From further questions it appears that the system's total operating costs are more than R66 million a month and that the monthly registration of e-toll users is also busy sharply declining. In April this year, only 20 104 tags were registered as opposed to 71 751 in April last year and 356 766 in December 2013.
To a question as to how many tags are being de-registered every month, a non-committal reply was given without providing any figures. The FF Plus also asked for the real figures to be provided.
Adv. Alberts says the figures which were provided create a clear picture of a system which is busy collapsing and has hardly any legitimacy any more.
"It is clear that the expectations which had been created with the e-tolls were excessively high. But as to how big the system's financial crisis really is, will only be seen when the questions are answered in full," Adv. Alberts says.
Contact no.: 082 391 3117 / 083 419 5403