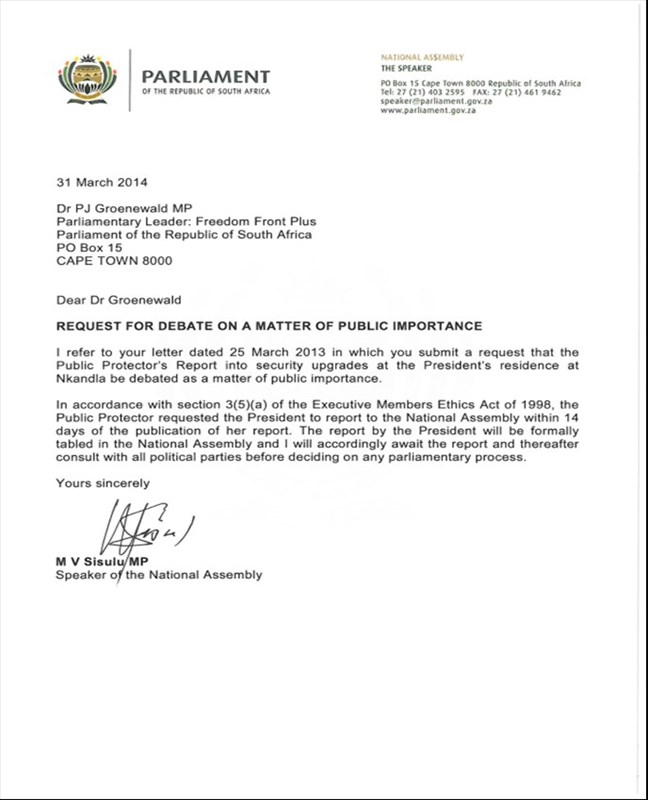 The Speaker, Dr. Max Sisulu, has reacted to a request of the Freedom Front Plus to hold an urgent debate in Parliament about the Nkandla report of the Public Protector. In a reply to the request of the FF Plus (25 March 2014), the Speaker stated that he was waiting for the response (report) of President Zuma on the report. As soon as the Speaker has received President Zuma's report, he will table it in Parliament and consult with all the political parties in Parliament about the parliamentary process that has to
be followed.
"Although the Speaker invoked section 3(5)(a) of the Executive Members Ethics Act, according to which the Public Protector (PP) has to give Zuma 14 days to respond to her report, the Speaker has now at least undertaken to table Zuma's report in Parliament. This will clear the way for an urgent debate in Parliament about the Nkandla report and Zuma's reaction to it. The FF Plus will keep the Speaker to his undertaking and as soon as 14 days have passed Zuma has to react and the FF Plus will insist on an urgent debate about it," Dr. Pieter Groenewald, the FF Plus' parliamentary leader says.
"There is no doubt with the FF Plus that this debate will take place before the election. The Freedom Front Plus views this issue of such great public importance that the Speaker will have to make an exception and will even have to call a special session of the National Assembly," Groenewald said.
Contact no.: 083 627 4397 / 083 419 5403