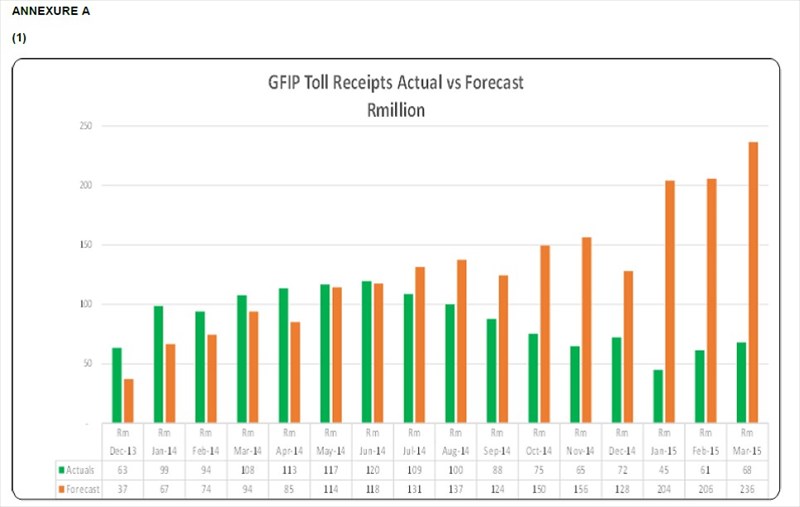 Statistics with figures that the FF Plus obtained about the financial situation of the e-toll project makes it clear why the ANC government is making desperate leaps to rescue the project from collapse, Adv. Anton Alberts, the FF Plus' parliamentary spokesperson on Transport says.
Following a parliamentary question of Adv. Alberts being answered earlier this week without any figures being added to the reply, the figures were now handed to the FF Plus. The graph with figures is herewith attached.
Adv. Alberts says it indisputably proves that the state's projected assumptions of income did not materialise at all and that the system is fact starting to collapse, especially since June of last year.
The statistics shows the following:
June 2014 was the last month that the real income had surpassed the projected income. Since then the gap has increased hand over hand and has become particularly disproportionate this year.
In January of this year the difference between the real and projected income was R159 million, in February it was R144 million and in March R167 million.
The projects running costs alone are R66 011 730 a month. This is in addition to the enormous monthly interest burden on the loan of more than R20 billion.
In January of this year the total income from e-tolls was a mere R45 million. It makes it very clear that system has failed and that the public resistance to it is busy winning the day.
Adv. Alberts says to force the public with draconian measures to support the immoral system and rescue it from collapse, will have the opposite effect and will explode in the ANC's face.
"What has happened here is the first real sign that the broader public is busy opposing the ANC's maladministration and abuse of power," Adv. Alberts says.
The question as to how many tags are being de-registered every month was answered evasively without providing any figures. The FF plus does not accept this and will continue t insist on a full disclosure.
Contact no.: 082391 3117 / 083 419 5403