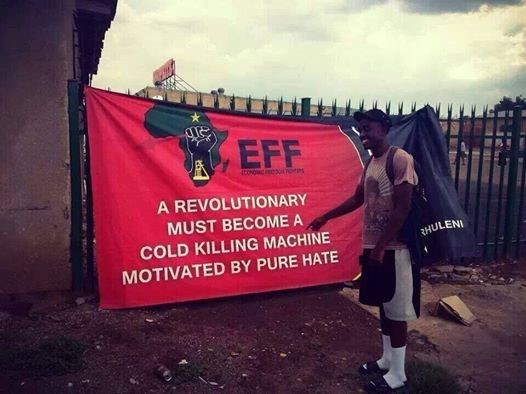 Inflammatory comments and incitement to violence against white people in the name of Julius Malema's EFF are unacceptable and the FF Plus today asked the Independent Electoral Commission (IEC) and Human Rights Commission (HRC) to investigate it," Dr. Pieter Mulder, Leader of the FF Plus said.
According to Dr. Mulder, inflammatory EFF banners and comments on the EFF's Facebook page are continually doing the rounds in the social media and create a climate for violence. This type of action is a contravention of the Constitution and the Electoral Act of South Africa.
On banners in the name and colours of the EFF used in public and displayed during gatherings of the EFF, the following, amongst others, has been written:
"A revolutionary must become a cold killing machine motivated by pure hate";
"Honeymoon is over for white people in South Africa".
When these messages are displayed next to each other, the conclusion is quite clear that the messages are aimed against white people in South Africa.
"Comments which, according to all indications, have been placed on the Facebook page of the EFF contain gruesome details about the incitement to attack white people, torture them, rape women and wipe out families.
"The Constitution of the country stipulates in Section 16(2)(a), (b) and (c) that the incitement to violence and the advocacy of hatred that is based on race and ethnicity the incitement to cause harm, is against the law.
"The Electoral Act , 73 of 1998, states that no registered party or candidate may use language or act in such a way that may provoke violence.
"Such actions of the EFF can no longer be tolerated. There can be no talk of nation building in a climate which is created by unbridled hate speech," Dr. Mulder says.
Contact no.: 082 674 6670 / 083 419 5403