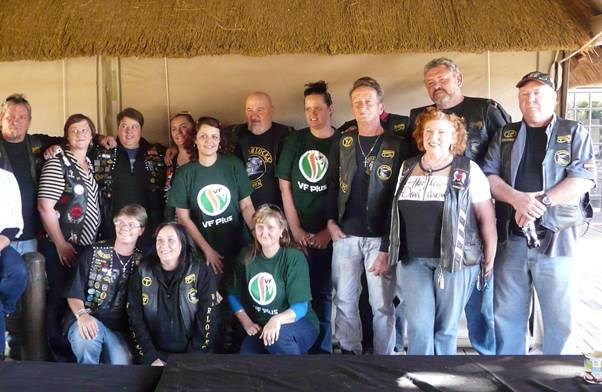 The Freedom Front Plus in Northwest and the Warlocks motorbike club handed out food parcels to more than 250 families in Mooinooi on Tuesday (10/06/2014). The families are victims of the platinum strike in the Rustenburg area. According to the president of the Warlocks, Mr. Andy Meintjies, more than forty motorbike clubs contributed to make up enough food parcels. The FF Plus' councillor in Brits (Madibeng council), Elsa Lourens, and the branch chairman of the FF Plus in Mooinooi, Ms. Hannetjie Grobbelaar, made the local arrangements to see to it that real victims are assisted and the process proceeded very orderly.
"The realization of government that drastic changes to labour legislation are needed is welcomed by the Freedom Front Plus. The FF Plus have warned for a long time already that too much power held by trade unions could paralyse the economy and not really protect workers. It is unacceptable that workers who do want to work, are being prevented from going to work and therefore do not receive an income. Actions such as those taken by Margaret Thatcher in Britain in the eighties, when she curtailed the power of trade unions, are now needed in South Africa. It is a pity that the government first has to experience a disaster before they take steps to address it," Dr. Pieter Groenewald, the provincial leader of the Freedom Front Plus in the Northwest, says.
"It has always been the view of the Freedom Front Plus that there should be a balance between the interests of employees and employers in terms of labour legislation. For this reason, the court application which Solidarity has lodged with the Constitutional Court to protect the interests of their members is being welcomed. The FF Plus will in Parliament actively contribute to amending labour legislation to restore the balance and protect workers who want to work," Groenewald said.
Contact no.: 083 627 4397