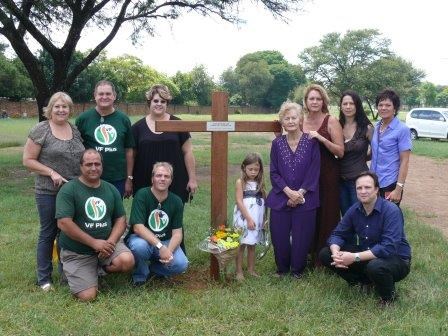 The Freedom Front Plus today donated a cross to the parents of Bernadine Kruger during a cross-planting ceremony which was held in Pretoria East near the place where Bernadine was killed by a taxi-driver five years ago. "The cross was planted in commemoration of the unnecessary passing of Bernadine and it now also stands as a monument to all the people who had unnecessarily lost their lives in road accidents," Adv. Anton Alberts, the FF Plus' parliamentary spokesperson said.
The FF Plus said at the time that the relevant taxi driver should rather be charged with murder than culpable homicide due to the intention he had to knock Bernadine with his taxi. The state prosecutor later changed the charge to murder and the taxi driver was eventually found guilty of murder.
The FF Plus, together with Bernadine's mother, Mrs. Elsabe Homann, called on motorists to be more considerate on roads, as a life could be lost in a minute.
Adv. Alberts furthermore called on traffic authorities to train their peace officers better and to increase vicible policing.
Lastly, Adv. Alberts also emphasised that AARTO should be scrapped because it allows traffic authorities to focus on the collection of fees instead of strict policing through the Road Traffic and Criminal Procedure Acts.
Contact no.: 082 391 3117