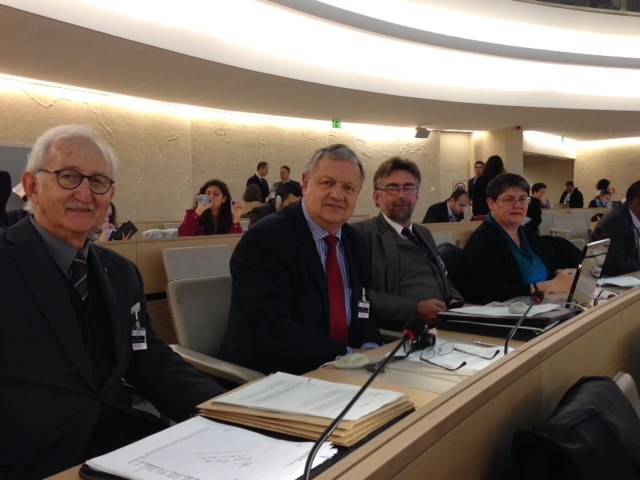 The FF Plus' objective with its visit to the United Nations' Human Rights Commission Forum to inform the world first hand about problems that affect minorities in South Africa, has up to now been extremely successful, Dr. Pieter Mulder, leader of the FF Plus says.
Apart from the four presentations in the Forum on the burning issues – farm attacks, land reform, affirmative action and Afrikaans, comprehensive documentation on these issues have been handed to representatives of various countries to hand them to their governments.
Some of these countries include America, Britain, Spain, France, Belgium, Canada and New-Zeeland.
Dr. Mulder says the incident in which a South African diplomat had been involved when she criticised the UN in during her turn to speak because the FF Plus had been given an opportunity to speak, could also raise the eyebrows in this organisation.
"It should be remembered that the theme for this year was: 'Preventing and addressing violence and atrocities targeted against minorities' and against this backdrop we went to present our case. The South African diplomat attacked the UN because it had given members of a minority the opportunity to address the Forum.
"The South African government's irritated reaction means our facts cannot be refuted and that it was correct and necessary to be here and to introduce it to the international community. That is why the FF Plus will continue to place these facts on the table, in South Africa and internationally, exactly like the ANC had done during their struggle against apartheid.
"From discussions with people from other countries it is also clear that the ANC government no longer enjoys the protective aura of a Nelson Mandela and it is becoming clear that scepticism towards South Africa is increasing. People are for example asking how safe it is in South-Africa," Dr. Mulder says.
On the second leg of the FF Plus' foreign visit, Dr. Mulder will be attending the executive management meeting of the Unrepresented Nations and Peoples Organization (UNPO) today and tomorrow (27 and 28 November) in Geneva and will bring them up to date with developments in South Africa.
He will also be meeting with the presidency of UNPO in preparation of UNPO's general council, which will be held in May 2015 in Brussels, to ensure interaction with the European Union Parliament.
Contact no.: 083 419 5403 / 082 674 6670