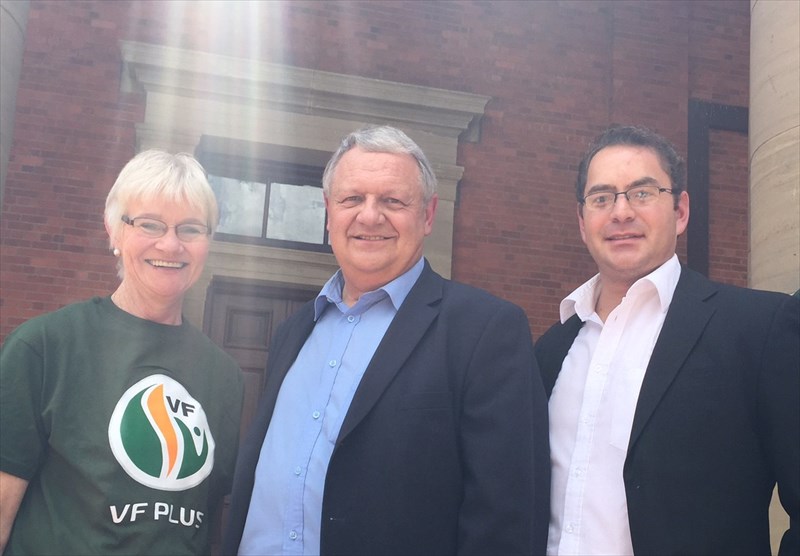 A seasoned DA councillor in Moqhaka (Kroonstad) in the Free State has resigned from the DA and chose the FF Plus as her new political home. Dr. Pieter Mulder, FF Plus leader, officially welcomed her to the FF Plus during a media conference held today in Bloemfontein. Dr. Albe Viljoen had for sixteen years, from 2000 until January 2016, been a councillor in the Moqhaka municipality.
Dr. Viljoen had already in 1998 established the first DA branch in Kroonstad and had previously been the caucus leader of the DA in the city council. During the current municipal term she was a proportional member of the Moqhaka local municipality and Fezile Dabi district municipality.
Dr. Mulder said during the media conference that Dr. Viljoen was the second DA councillor which had in recent weeks resigned from the DA and joined the FF Plus.
"Dr. Viljoen's joining the FF Plus is indicative of a growing trend. She is one of many DA members who are joining the FF Plus. Our offices are inundated with membership applications from former DA members. Last week members of a former DA branch in Edenville became involved with the party as a FF Plus branch. Today therefore serves as an example of the current political atmosphere," Dr. Mulder said.
Although she was a dedicated DA member since 2000, Dr. Viljoen now says that she has joined the FF Plus because the new direction the DA has taken is moving closer to the ANC in terms of policy, and it therefore no longer pays any attention to minority's issues. She cannot identify with the DA's policy views on affirmative action, Black Economic Empowerment and targets. She says she could also no longer sensibly serve her community and therefore decided to resign as DA councillor.
According to Viljoen there is a very serious leadership crisis in the DA which is especially untenable at a local level. This, together with a total policy change and ill-considered populist comments by DA leaders have left her no choice but to find another political home.
Dr. Viljoen identified the FF Plus as a growing alternative and said the FF Plus better represents her values and is a much better vehicle to serve her and her community's interests. Prior to her resigning from the DA, Dr. Viljoen did not apply to be a DA candidate. She is however prepared to put herself forward as a candidate for the FF Plus in the forthcoming municipal elections.
"We welcome Dr. Viljoen in our midst and we are glad that she bears the interests of her community at heart. There is a definite trend of realignment in South Africa's politics and it is becoming clear that coalitions will increasingly offer a viable option to take care of everyone's equal rights," Dr. Mulder said.
According to Dr. Mulder, the proportional electoral system offers people such as Dr. Viljoen the opportunity to join a political party that represents their values and interests. The time of one big opposition party has passed and the more mature South Africa's democracy becomes, the bigger the role will become for other parties who could represent their voter's values in councils and who could ultimately form a coalition government.
Dr. Pieter Mulder: 083 419 5403 / 082 674 6670
Dr. Albe Viljoen: 082 571 5640