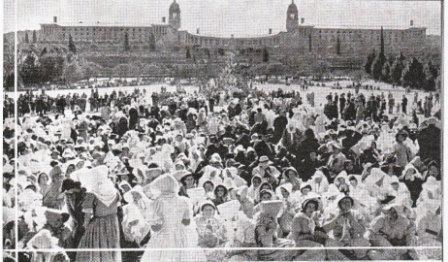 Womens Day should celebrate and commemorate the role and struggles of all women in South Africa's history, but it is clear that the ANC sees it as a day on which tribute is paid only to the ANC's women and their struggle, Dr. Pieter Mulder, Leader of the Freedom Front Plus says.
Dr. Mulder referred to a newspaper report (The Star, 10 August 2015) in which it was stated that the ANC Womens League's deputy president, Sisi Ntombela, had successfully changed a national Womens Day gathering into an ANC gathering and amongst others, sang that the Free State was Zuma's country and belongs to him.
Dr. Mulder said that the struggle of other women in the country is just as important. Just like the struggle of slave women in the nineteenth century and that of the Afrikaner women the previous century.
"My Mulder grandmother was in a concentration camp and after the war only referred oh "English War". According to her, the British had caused it as part of colonialism and British imperialism.
"By the end of the war in 1902 there were 160 000 Afrikaner women and children and 130 000 black people in British concentration camps. In total 32 000 of the Afrikaner people died there. That is ten times more than the number of Afrikaner men who had died on the battle field. Approximately 20 000 black people also died in concentration camps," Dr. Mulder said.
Dr. Mulder referred to the book; "The Brunt of he War and where it Fell", of the well-known British woman Emily Hobhouse, who had assisted people in concentration camps and in particular dedicated the book to: "The women of South Africa whose endurance in suffering, resignation in humiliation, independence under force, dignity in humiliation tolerance in pain and quiet acceptance of death had gripped her in wonder and had provoked sympathy throughout the world."
According to Dr. Mulder the ANC commemorated the march of 1956 to the Union Building on Womens Day, and rightly so as it was an important event.
"There had however been another women's march to the Union Building. On 4 August 1915, 6 000 women delivered a petition on behalf of 40 000 people for the release of Gen. Christiaan de Wet and other Afrikaans leaders.
"On Saturday 22 June 1940, 10 000 women also marched to the Union Building about an issue close to their heart. This day will therefore only come into its own if all women and their struggle and suffering presently and in history are commemorated," Dr. Mulder said.
Contact no.: 083 419 5403 / 082 674 6670